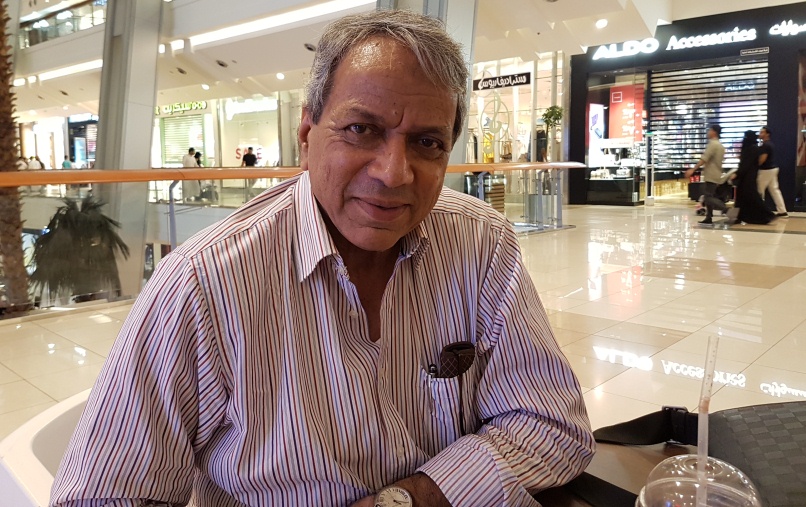 By Mr. Irfan Mohammed
Fazil Zakaria, who came Saudi four decades ago unintended amid of dramatic twists. Jeddah was that vast expanse of sand with limited multi story buildings made by coral stone, no proper communication facilities and limited civic amenities.
He is part of the first generation of Hyerabadis who moved to dry, hot deserts in gulf and played role in transformation from aridity to pasture one of today.
Now, at 70 years, after spending 44 years in the port city of Jeddah, he is leaving from Saudi Arabia. The Hyderabadi, who has witnessed kerosene lamps, petromax lights as commonly known, as streetlamps in the bustling downtown of Balad and getting water on donkey carts and above all remitting money with the exchange rate of Rs. 2.50 for a Saudi Riyal then, has a lot to share gen-next NRIs.
Fazil, who likes to maintain a low profile in social circles yet forefront in many community causes, was among few Indians who mooted the idea of donating the fund for the construction of Indian community school building and first among Hyderabadis to donate voluntarily a big amount for the same. In his long career, where he is known as "Man of Cars" for successful achievement in competitive and one of the world's largest automobile markets.
Fazil who intend to migrate to Canada for which he went to London first for immigration interview, but some friends in London advised him to explore jobs in Iran, then from London he went to Iran but somehow he didn't like there, then his cousin advised him to try for Saudi Arabia, thus how he had landed in Saudi Arabia in 1975.
"I came at the right time and also leaving Saudi Arabia at right time, I have spent most of my life here, more than my birthplace Hyderabad, and Jeddah is part of me", Fazil Zakaria told this correspondent in a nostalgic tone.
Before relocating to Boston in the US, he has recalled his initial days in the then Saudi capital and his observations upon the Hyderabadi community.
Fazil said he and his wife – Yasmin Zakaria, who joined him here, have only fond memories of living in Jeddah. "We have seen Jeddah's unbelievable growth. I have enjoyed my longer stay here, my kids – Faisal, Fahad and Salwa born and grew up here have migrated to the US".
Today's generation that digitally connected for personal counselling to job openings may not know their predecessors struggled to find a job and live in the country decades ago.
As there were no effective communications among Hyderabadis whether in Jeddah or with back home to Hyderabad, it was a difficult task to find and locate any newly coming Hyderabadis for jobs in those yesteryears.
"Some passionate and patriotic Hyderabadis in the 1970s used to visit the airport, at that time located in Naseem district, to enquire who coming from the motherland. Jabbar, by then already old-timer Hyderabadi in Jeddah, came to the airport and was delighted to know that I am from Hyderabad", Fazil recalled his first day in Saudi on June 10, 1975.
"It was affection and admiration of co-Hyderabadis that facilitated job opportunities according to capabilities of candidates rather than CVs in those days", he proudly said.
"After performing Umrah and visiting Madinah, I found a job with the help of one Mr Kamal of Hyderabad as a sales executive in an automobile agency in the city. However, Arab call of Israeli boycott and its impact on automobile sector the agency was closed in Saudi," explained Fazil.
The Saudi owner had offered him a job in other sectors but he wishes to continue in the car sales itself so opted to join Abdullah Hashim Motors, dealers of Honda in 1981. Since then, he is working continuously with the same firm.
With Jeddah, Fazil was also on the rise. By the year 2000, Jeddah had witnessed enormous changes.
The era of snail mail and overnight flight
Narrating the ordeal, in reaching out near and dear back home in case of emergency, Fazil said that there was no effective communication system in the 1970s. All Indians were in possession of Indian postal stamps and writing letters and handing over to people who fly to India with a request to drop at post box.
"There were only 2-3 places in Hyderabad to convoy message back home for urgency, through Telex service. Sharif Travels in Basheer Bagh was one of such place that had telex and we used to transmit urgent information such as death", recalled Fazil.
"The journey to Hyderabad was longer yet excited, passengers to Hyderabad were accommodated in Centaur Hotel at the airport in then Bombay and following day were ferried to Hyderabad", he recalled.
Hyderabadi influence in the city expats
There was clear clout of Hyderabadis in most spheres of private sector. Besides, Saudia, the national flag carrier of the country, was having a greater number of Hyderabadis so in hospitals, universities and other semi-government organisations were flooding with Hyderabadis in the 1970s, explained Fazil.
"We were exhibiting Hindi movies weekly twice to collect the funds to meet operational cost of an Indian community school that was functioning in Baghdadia district", he added.
"Since we were the only one who displays Hindi movies, there was a good response", he recalled.
Fazil pointed out that it was Hyderabadis who were forefront in construction of building for Indian community school during the visit of Prime Minister Indira Gandhi in 1981, which is present-day IISJ Girls section.
Interesting blackboard and neem tree
Fazil, who served as a school board member in those days, has shared an interesting story about the size of a classroom. There was a big neem tree inside the premises of school building; the area was turned as a classroom to accommodate an increasing number of students.
"Since we can't trim the tree as per local law, classroom is continued in the same area with shed around the tree, the class was handled by two teachers and division known with sides of a tree", he recalled.
No common platform for Hyderabadis even 1970s
Fazil said that Hyderabadi community was dominant among Indian expatriates from 1960 to 1980s in Jeddah and rest of Saudi yet there was no common platform for the community as all of them want to act on individual identity basis. He said that Malayali community that came much later than Hyderabadis in the city yet acted commonly and benefited which is not the case for Hyderabadis, he pointed out.
Wonderful and blessed life for all
Irrespective job status, most of Hyderabadis led a decent and wonderful life in the port city, said Fazil.
Fule Tank of the car was filled to full capacity for SR. 5 and single riyal was fetching 8 litres of petrol and 10 pieces of samoli bread in those days, he recalled.
The Pepsi factory and Bugshan hospital in Madina road was the end of the city. Most of the houses were built with coral stone and protected from high-level humidity so the temperature was not a problem as now, Fazil added.
There were no eateries or restaurants, only one juice shop existed in Balad, he recalled.
Good-Bye to City
It was a difficult choice to leave the place and people whom I worked and associated for longer decades, said Fazil.
He hailed his Saudi bosses and also colleagues, friends and thanked them.
Fazil is set to leave on Saturday along with his family and a pet cat for which he struggled to complete passport and other mandatory veterinary health requirements.
"I can't leave the innocent cat alone so taking with us to US", he commented.
Subscribe us on