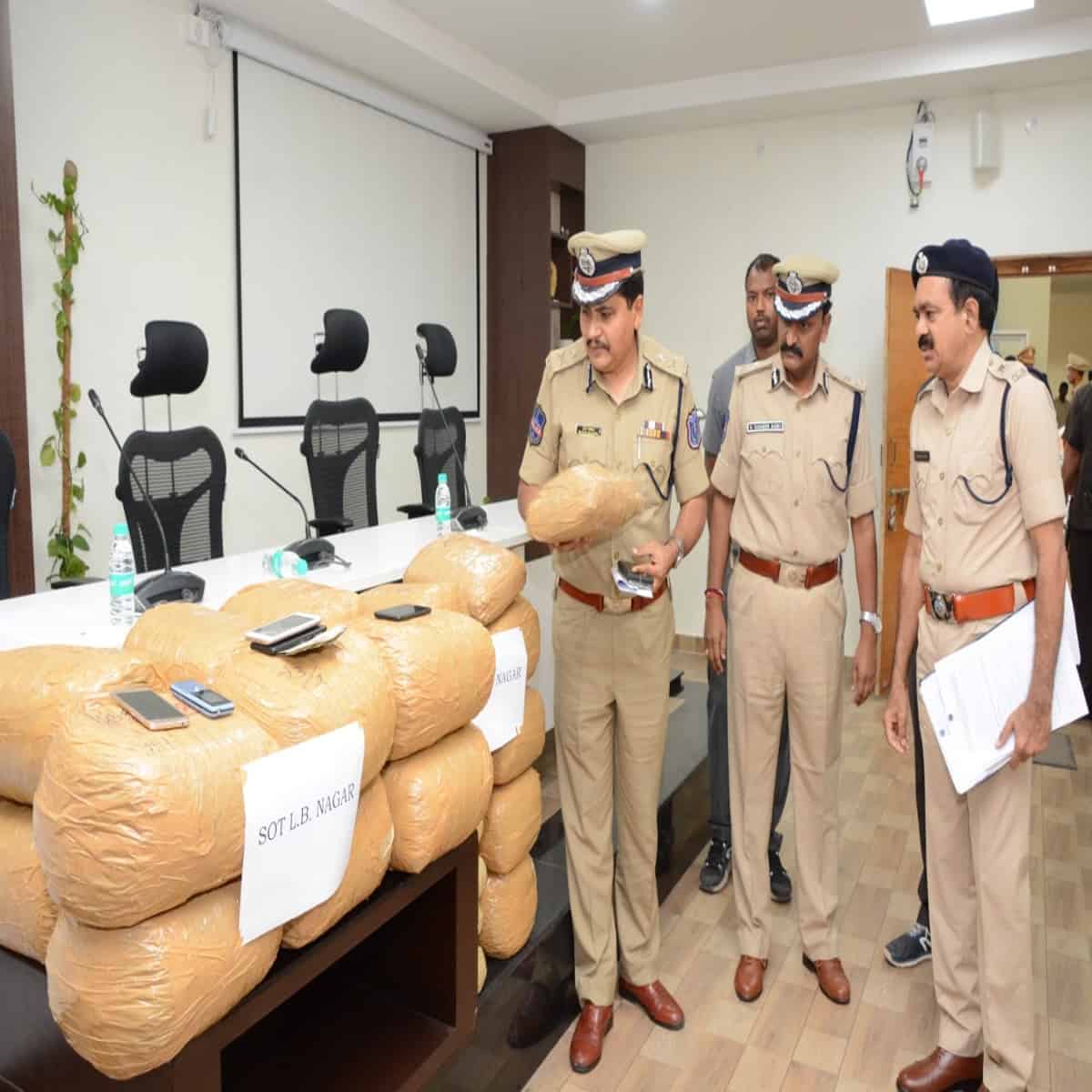 Hyderabad: The sleuths of Special Organization Team (SOT) along with L.B Nagar police nabbed four interstate drug peddlers trafficking Ganja from AP State to Rajasthan on Wednesday at afternoon hours at Chintalakunta Main Road in LB Nagar while they were transporting the Ganja from Araku Agencyarea of Vishakapatnam District in a Maruti car.
The police have seized 108 kgs of Ganja, one Maruti car; cash Rs. 3000 and four mobile phones, all worth Rs. 14 Lakh from their possession.
The accused have been identified as Gadda Kalyan Kumar (21) native of Vishakapatnam district of AP, Kalu Balai (25) resident of Bhilwara district of Rajasthan, Adaktla Sharath Kumar (23) resides in Vishakapatnam district, Bhakta Ram Khara (24), Koraput district of Odisha, Mukesh (Absconding).
According to police, the accused Gadda Kalyan Kumar had previously been involved in various cases of peddling of narcotic drugs and was caught by police. Later, he was released from jail in the month of October-2019. 
However, he again planned to transport the Ganja in order to earn easy money. All the five accused hatched a plan on the directions of Mukhesh belongs to Kanda village of Rajasthan, and then they procured 108 Kgs of Ganja from Araku agency area of Andhra and Odisha border.
After that, they transported the same in a car to Hyderabad in order to hand over the same to Mukesh who intended to shift the Ganja to Rajasthan for sale.
The accused people have purchased Ganja from Kumar resides in Daiput village of Odisha at Rs.2000 per Kilogram in order to sell it at the rate of Rs.8000 in Rajasthan. Then they divided 108 kgs of Ganja into 25 packets each weighing 3 Kgs and 5 Kgs by compressing and wrapped them in adhesive tapes and concealed the same under the back seat of the car and transported the same from Visakhapatnam to Chinthalakunta X road in LB Nagar, Hyderabad.
SIASAT NEWS
Subscribe us on