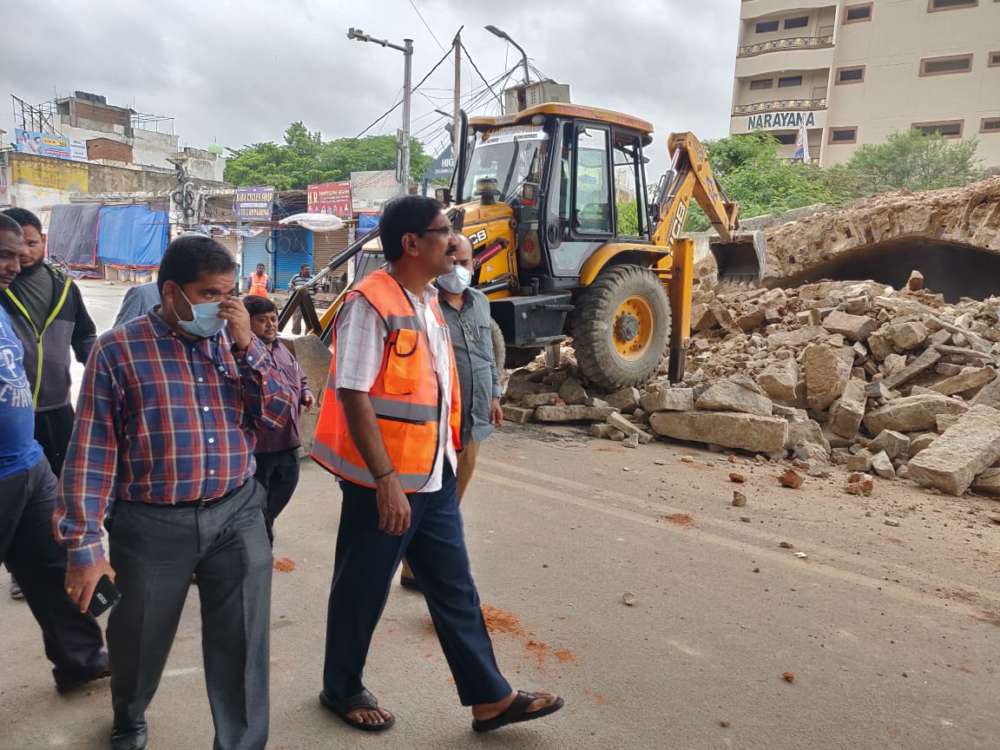 Mohammed Hussain
mohammedhussain.reporter@gmail.com
Hyderabad: The GHMC Charminar Zone's Town Planning Wing officials demolished the age-old structure that was in a dilapidated condition.
Structure located adjacent to Pista House in Shalibanda, it was razed to the ground under the supervision of Charminar Zonal Commissinor Srinivas Reddy and police personnel and other senior officials on Wednesday.
GHMC Charminar Zonal Commissinor, Srinivas Reddy said, " The property bearing registered number (20-4-146/123) was 150 years old and it remained in a dilapidated state. "The total area of the property is 100 square yards and the GHMC has demolished 80 sq yd and the remaining will be demolished by Hyderabad Metro Rail Limited (HMRL) in the future, as part of road widening works for facilitating the Metro route in this phase," he added.
Mr. Srinivas also said that the GHMC has been issuing notices to the residents to vacate the property since 1986. But they refuse by saying that the structure of property will be repaired. On Wednesday, along with the City Planning officials, the property was evacuated and demolished.
GHMC officials says that the drive for the demolition of dilapidate structures were going on and would be completed in the next two days.
The officials also says that the demolition would also facilitate the on-going Metro Rail project works. During the drive, three JCBs were also utilised in demolition works. The structure was built using granite stones, and leads to slowly progressed during the day.
According to the GHMC officials the higher officials, including Principal Secretary (MAUD) Arvind Kumar and GHMC Commissioner Dana Kishore directed the Town Planning Wing to take up the demolition works of the dilapidated structures and also requested the locals to cooperate in this endeavour. There are over 765 old and dilapidated buildings across the city under GHMC limits. Includes 484 structures that were identified in 2018. However, over 400 structures were already demolished by the GHMC. The cosmopolitan body has identified dilapidated buildings based on the structural safety recommendations from the Engineering Department and took up the demolition drive of those buildings that posed high risk on priority. As per the official statistics, some 382 such structures were demolished since January this year, as a part of action plan.
Subscribe us on