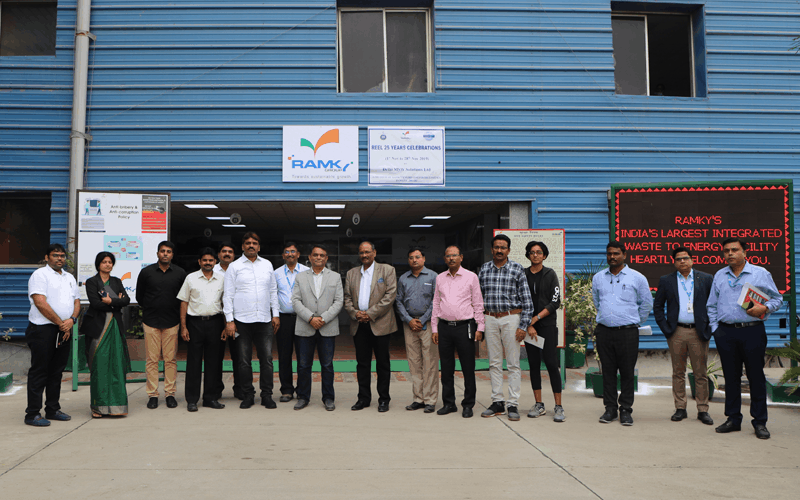 Hyderabad/Delhi: A High-level committee headed by Bonthu Ram Mohan, Mayor GHMC along with Arvind Kumar, Principal Secretary, MA &UD has visited the collection points and processing units of waste management in New Delhi on Wednesday.
The committee consisted of Lokesh Kumar, Commissioner, GHMC, Vishwajeet Kampadia, Director of Vigilance and Enforcement, GHMC. The committee was guided by Gowtham Reddy, CEO, Ramky Enviro Engineers and their representatives.
The committee has visited collection point in GTB Nagar of Delhi to understand the technology used for collecting the solid waste through portable compactor operations. The advantages of Portable Compactor were presented which prevents from littering/spillage. Prevention from of unwanted wastage, presentable and easy to transport in compacted manner and flexibility to transport more waste per trip.
The committee also had a visit to transportation, processing of Municipal waste using technologies in tandem for composting, waste to energy; leach ate management, land fill management, green belt, infrastructure and disposal of residues. The CEO from Ramky also presented the pollution control measures for flue gas emission control, ash handling system which used for course material in road construction and neutralized effluent from Water Treatment in the largest Plant.
Integrated 24MW WTE power plant located in Bawana, Delhi. The officers had detailed discussion on the technologies utilized and viability to implement the project in the GHMC area of Hyderabad.
The mayor has directed the officers to prepare a detailed project report based on the population in each ward, number of collection points, transportation, maintenance of the collection/pick up points. The secretary said that a micro plan should be prepared to initially present the outlay of the project and focus on the community involvement, large scale plantation in the plant area.
The committee also discussed the generation and distribution of power from the waste and also the compost distribution. The CEO of Ramky has said that the present segregation done in the GHMC is far better than any other municipality in the country.
The committee discussed on the strategy to adopt the waste management system and its challenges. Sujatha Guptha, special commissioner, GHMC, Srinivas Reddy, Executive engineer (Solid waste management), GHMC, Mahendar Reddy, OSD to MA & UD. 
Subscribe us on