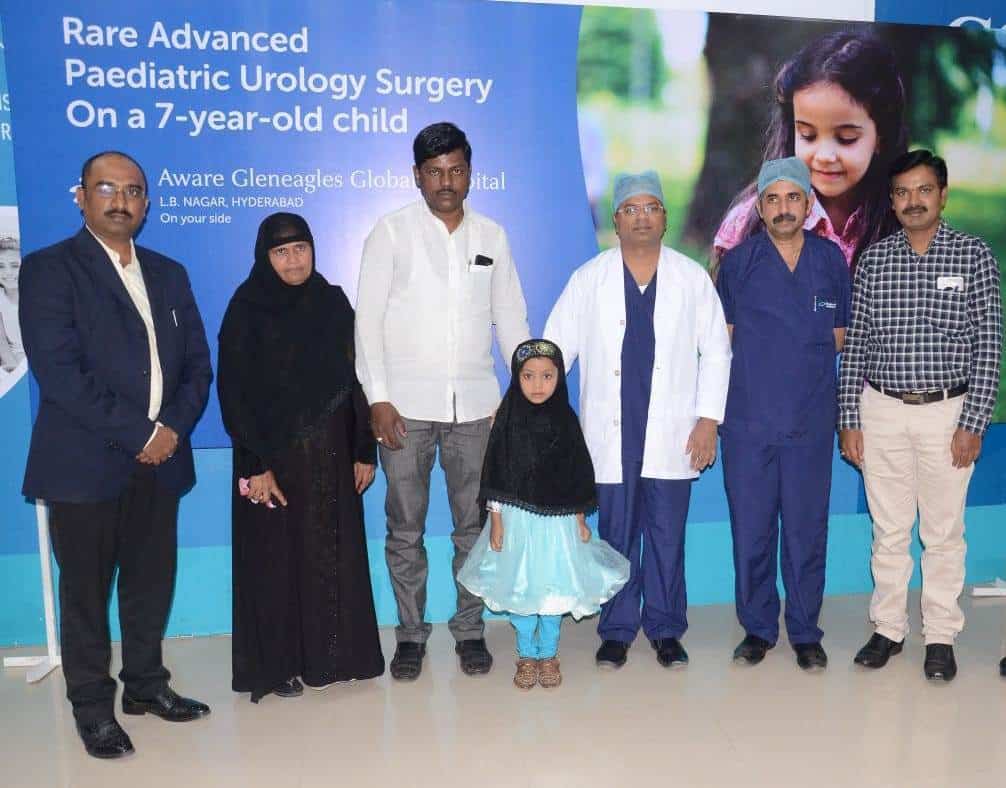 Hyderabad: A 7-year old Ms. Umme Rumaan Khatun, a resident of Jagadgirigutta in Ranga Reddy district was admitted to Aware Gleneagles Global Hospital (AGGH) with a complaint of pain in the right flank that was occurring at regular intervals.
On closer examination and subsequent investigations by the doctors at AGGH it was found that Ms. Khatun had a 9mm stone in the ureter that needed immediate attention to relieve the child from her pain and nurse her back to normalcy.
Dr Mervin Leo, COO, Aware Gleneagles Global Hospital while speaking to the media here said, "Though uncommon in the past, stones in children have shown an exponential increase in incidence in the past decade. As the world's population evolves, so does the epidemiology of stone disease.This could be attributed to changing life styles as well as dietary patterns to a large extent".
Dr B Laxman, Consultant Urologistat Aware Gleneagles Global Hospital who had treated the child said, "Noticing that the 7-year old child had a 9mm stone it was absolutely necessary that a surgery be performed to relieve the child of her pain and so we decided to do a Retrograde intrarenal surgery (RIRS) – a procedure for doing surgery within the kidney using a viewing tube called a fiberoptic endoscope to remove the stone. The advantages of RIRS over open surgery include a quicker solution of the problem, the elimination of prolonged pain after surgery, and much faster recovery".
"In RIRS the scope is placed through the urethra (the urinary opening) into the bladder and then through the ureter into the urine-collecting part of the kidney. The scope thus is moved retrograde (up the urinary tract system) to within the kidney (intrarenal).
The stone is seen through the scope and can then be manipulated or crushed by an ultrasound probe or evaporated by a laser probe or grabbed by small forceps, etc.RIRS is performed by a specialist, an urologist (endourologist) with special expertise in RIRS. The procedure is usually done under general or spinal anesthesia", added Dr Laxman.
Aware Gleneagles Global Hospitals is the only hospital in the vicinity that has the necessary infrastructure and the expertise to treat paediatric urology cases. Paediatric conditions requiring management in adolescence are rare but have major, lifelong implications.
Their management requires a broad knowledge of paediatric and adult urology, and could well be a specialty in its own right. Hence, adult urologists must remain aware of the conditions, the problems that they may encounter and the special management required for these patients to live normal lives.
SIASAT NEWS
Subscribe us on