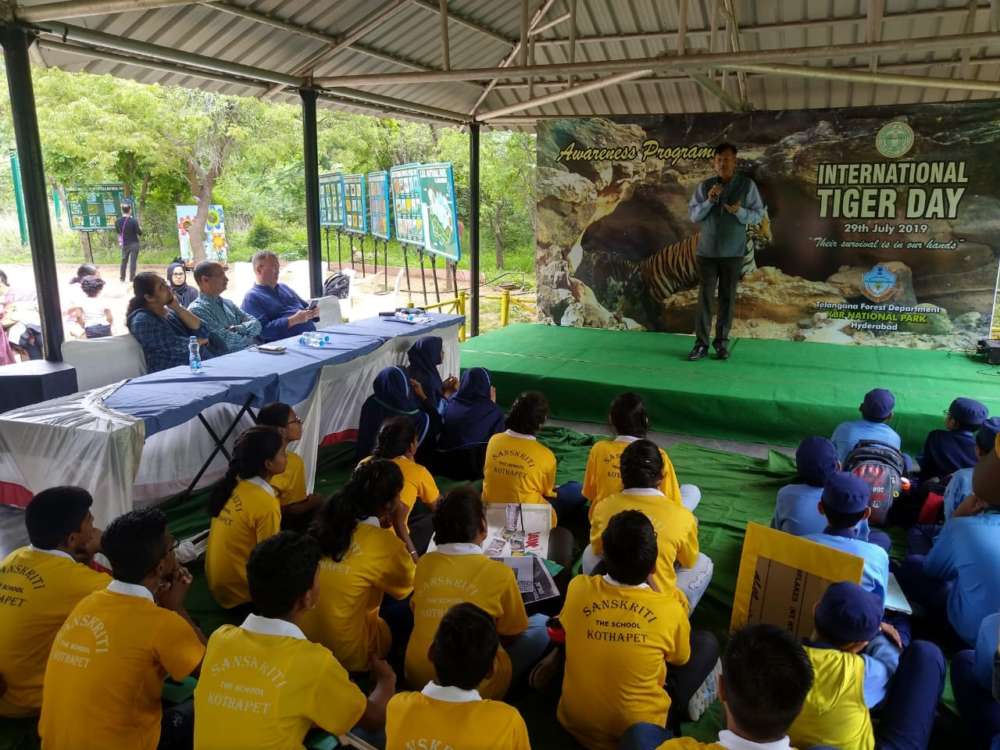 Hyderabad: The Telangana State Forest Department in coordination with HyTiCoS and WWF – India, organised an awareness programme and celebrated Global Tiger Day at KBR National Park on Saturday.
Over 400 children from 14 schools participated in the activities organized in view of Tiger Day. The activities included Wildlife Quiz and Nature-based learning games, with special focus on Tiger conservation.
Students have also performed skits to bring out a message as to how Tigers were killed in large numbers in the last 100 years and how this is now reflecting in form of ecological imbalance resulting in climate change and loss of biodiversity.
These changes are threatening the wellbeing of humans on this planet. The children also brought out the message that the Forest Department in collaboration with NGOs, Nature Lovers, Volunteers are focusing on the conservation of the Tiger and its habitat as is existing today.
Speaking on the occasion, Mr. Andrew Fleming, Dy. High Commissioner brought out, how the Tiger numbers in India which were 1411 in 2006 increased to 2226 in 2014.  He also stated that India is home to around 70% of the World's Tigers and appreciated the effort of Govt. of India and State Governments in protecting and conserving Tigers.
Mr. Munindra appreciated the student community for coming forward in large numbers to join the movement for the conservation of Tigers. Their role as budding citizens of the Country is very important to carry forward the task of ensuring a safe and healthy future for the Tigers in India and in the World.
The Global Tiger Day celebration started in 2010 following a decision taken at a Tiger Summit held at Saint Petersburg in Russia. With each passing day, this celebration is gaining momentum.
P.K. Jha, IFS. Prl. Chief Conservator of Forests (HoFF), Chief Wildlife Warden, P. Raghuveer, MD, TSFDC, R.Sobha, Prl. Chief Conservator of Forests (FCA), Munindra, Addl. Prl. Chief Conservator of Forests (Admn.) and others were present on the occasion.
Subscribe us on