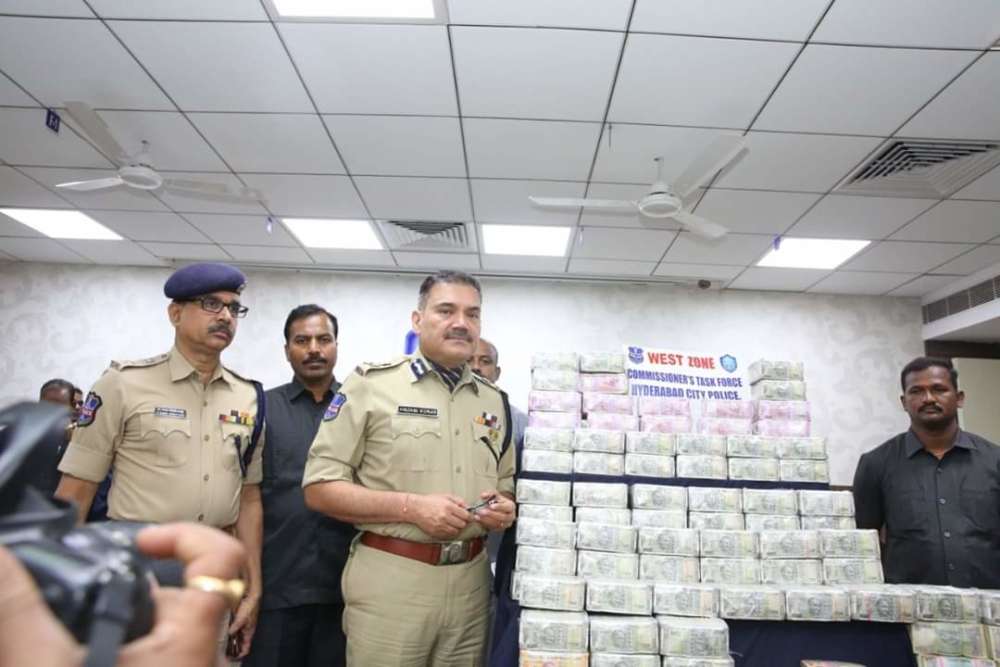 Hyderabad: The Task Force of Hyderabad Commissoner on Monday arrested seven persons who were operating a hawala racket in Hyderabad. Police officials have seized Rs 5 crore, two cars and a two-wheeler from them.
The arrested persons — 39-year-old Vipul Kumar, 49-year-old Shaileshbhai, 29-year-old Vipul Patel, 28-year-old Arjun Labhuji, 31-year-old Rajesh Rameshbai, 55-year-old Upendra Kumar Patel and 39- year-old Patel Chetan Kumar — currently live in Hyderabad but are natives of Gujarat.
7 arrested from Jubilee Hills check post following tip-off
Speaking to the press, Commissioner Anjani Kumar said officials had received a tipoff about a vehicle headed towards Jubilee Hills check post whose occupants were carrying cash of Rs 5 crore, and that they did not have documents validating the possession of the money.
Police reached the spot and arrested seven persons and seize the cash. Interrogation revealed that they were in the business of illegally transferring money for a commission of 0.6 per cent.
The accused worked for a firm called 'P Umesh Chandra and Company' which has offices in Ahmedabad, Surat and Mumbai. The firm is run by Harshad Patel and Umesh, both from Ahmedabad, police said. Investigations are on in the case.
Subscribe us on