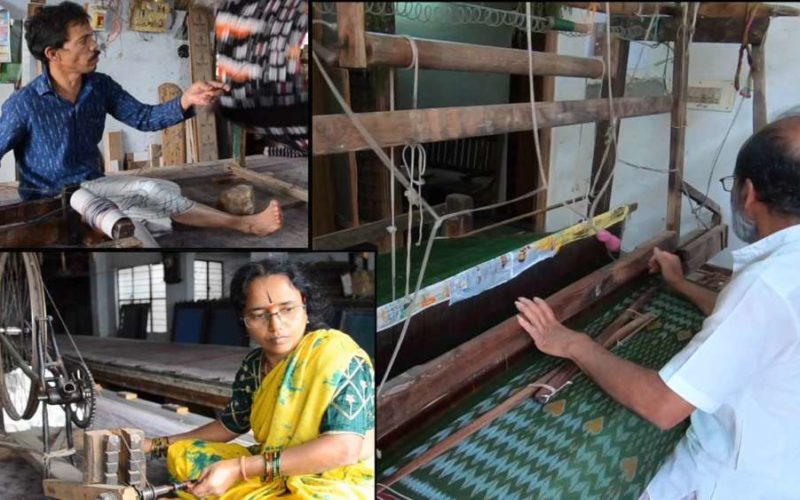 Hyderabad weavers reviving ancient craftHyderabad: Pursuing his passion to revive the dying art of handlooms a weaver from Hyderabad, K. Narsimhulu, has hand-woven a replica of a saree worn by a girl a century ago when child marriages were in vogue.
The craft of making special sarees for child brides went out of vogue slowly with the government banning it long years ago and people realizing its grave effects on the society.
Narsimhulu hails from a traditional handloom weavers' community which has settled down in Karwan, one of the oldest localities in Hyderabad. Incidentally, it is predominantly inhabited by weavers.
Though the craft is on the wane, Narsimhulu, having tasted recognition through his innovative craftsmanship has now ventured into making a "Java lungi", a traditional attire in Hyderabad and several parts of the country.  In fact, lungi is some sort of an international dress worn by Asian Arabs and South East Asian people.

Recalling the past, Narsimhulu says in olden days there was no equipment. All weavers used to work with hands which was a slow process. "My grandfather did some research and invented a new technique as well as a machine to separate each thread reducing time for weaving," he said.

Giving details of weaving is done he said eleven threads are used to make one 'Java' lungi. Following a lengthy process of tie and dye the thread is rotated in a Bhana.

"During the era of Nizam my great grandfather used to make lungis, Jhamevars, Rumals, Pathka for the police. Today they use socks but earlier the Nizam's police use to wear handloom Mojolu (socks) made by weavers," he recalls.   

"In one week we produce 12 lungis on each loom. We have five looms in our production line," he said giving details of his work.
He also said, "Our ancestors used to supply lungis and other clothes to the entire old city and states like Andhra Pradesh and Tamil Nadu. All of them appreciate out work."
Earlier a loom was run by four persons; today only one person can run it. "Currently, in our family, 10 members are into weaving work," he said. He observed that there is no record of  looms of his ancestors in the government.
"For the past five years, we have been requesting the authorities to give us land to increase our production line but there is no response. Slowly weavers of Karwan area are shifting towards other professions and businesses," he informed.

He also said with pride that students visit his place to watch weaving and learn the craft. His family is providing free coaching to them.
Authored by Mohammed Hussain
mohammedhussain.reporter@gmail.com
Subscribe us on