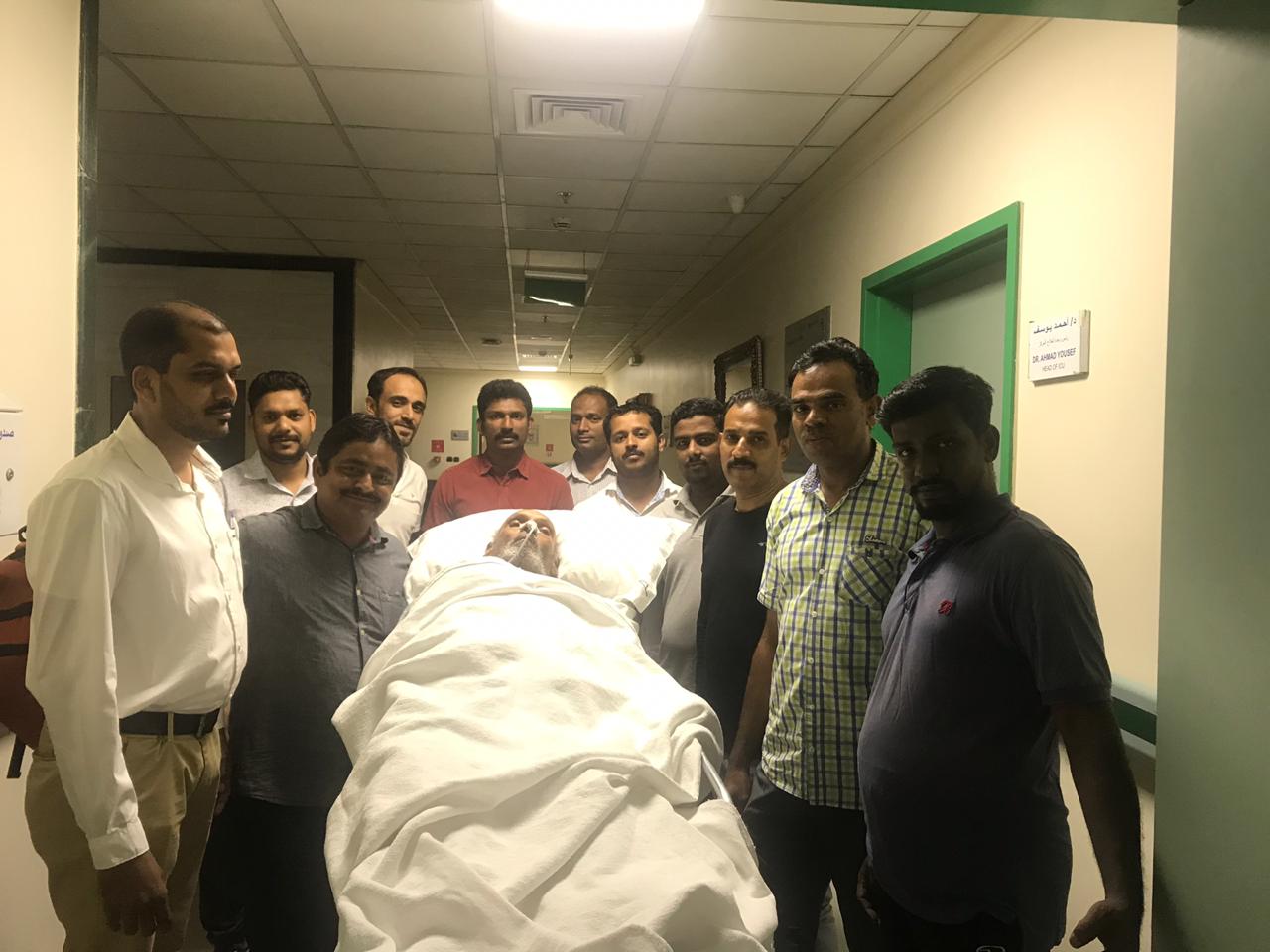 By Irfan Mohammed
Jeddah: An aged and ailing Hyderabadi, who was stranded in Saudi Arabia as a result of allegedly being abandoned by his son and also expiry of visa, finally repatriated by the Indian Embassy recently.
61-year old Mohammed Abdul Jabbar of Muradnagar in Hyderabad was working in Riyadh for the last 30 years. He was employed with a leading engineering consulting firm, Zuhair and Fayez, after the end of the service, his misery started.
Jabbar suffers from acute diabetic
Jabbar health started to deteriorate as multi organs damaged as a result of an acute diabetic. He suffered renal impairment, Hypertension and Middle Cerebral Artery Infarction.
On the other hand, he had some dispute with the sponsor, he was notified as Huroob and subsequently, his Iqama was expired.
Jabbar was admitted to a private hospital in Riyadh on March 8, 2019, in the emergency ward since then he was remained.
The medical bill occurred up SR. 350,000 equivalent to approximately 66 Lakh Indian Rupees.
Hardly anyone left in Riyadh or Hyderabad to look after for him, distraught Jabbar finds no place for help.
Jabbar's wife was expired and his adopted son was reluctant to accept according to the people who are familiar with the case.
Also, unable to pay the medical bill, Jabbar was in quandary.
Telangana NRI Forum takes interest
The plight came to know to the Telangana community. Telangana NRI forum President Abdul Jabbar, known as Jabbar Anna, and others approached several times to the hospital to waive of the bill.
After long negotiations, the hospital management has waived off the bill barring SR. 23,000 out of it SR. 18,000 paid by Indian Embassy and SR. 5000 was paid by Telangana NRI forum", said Jabbar.
The misery of ailing Jabbar was not ended there as the question arises where to send him, Shifa Ullah Old Age Home comes forward to take care of him with the support of the Telangana NRI forum.
Indian embassy obtains exit visa
Indian embassy also successfully obtained an exit visa for ailing Jabbar besides providing a stretcher ticket to Hyderabad by Air India flight and the patient was escorted by a Malayali social worker of KMCC Riyadh chapter.
Jabbar expressed his gratitude to the Indian embassy and also the KMCC team, Rabbani, Mohammed Fasi, Siddique for their support in the repatriation of the patient.
A recent survey by Help Age India claimed more than one-fifth of the elderly surveyed have experienced some kind of abuse or the other, usually from family members, especially bahu-beta. Bangalore tops the list, followed by Hyderabad.
Subscribe us on