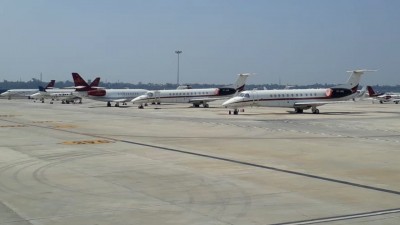 New Delhi, Sep 17 : The national capital's Indira Gandhi International Airport (IGIA) has entered into an exclusive league of global airports which sports a dedicated terminal for private jets.
In aviation parlance, such infrastructure facilities offer hassle free comfort and privacy to the flyers of private or charter jets or choppers.
Besides, they aid in the expansion of general aviation services at busy airports around the world as they provide designated layers of security checks, customs and immigration.
India's first dedicated terminal is located near the mega Terminal 3 of the IGIA.
The terminal was launched by GMR Group-led consortium Delhi International Airport Limited.
According to the company, the 'General Aviation Terminal' has been built to support the movement and processing of passengers flying through chartered flights from IGI Airport.
This new facility features an Apron area spread over 8 lakh sq ft with about 57 dedicated bays for parking of 'General Aviation Aircrafts'.
In terms of passenger amenities, the terminal provides spacious passenger lounges, retail and F&B sections, personal concierge services.
It supports a common processing area with customs and immigration and immediate access to private jet aircraft stands from the Terminal.
The terminal can handle over 50 passengers every hour and can cater to 150 private jet movements on a daily basis, including 'Code C' type aircrafts.
Speaking on the new infra facility, Civil Aviation Minister Hardeep Singh Puri said: "The new 'General Aviation' terminal at Delhi airport is th e need of the hour…."
According to the Minister, the terminal will provide significantly support to the growth of India's civil aviation sector.
Industry player JetSetGo's CEO & Founder Kanika Tekriwal said: "With the newly launched airport terminal for private jets we will address two major things – 'Time and Exclusivity'."
"Earlier, our guests used to board their flights from either T1 or T3 along with commercial flight passages and took similar processes to board a private flight making it challenging for someone who is paying a premium price. Now with the new terminal, our guests will be able to fly with us in almost no time and utmost privacy."
The terminal will become fully operation from September 20 after it has gone through the deep sanitisation process.
–IANS
rv/sn/sdr/
Subscribe us on