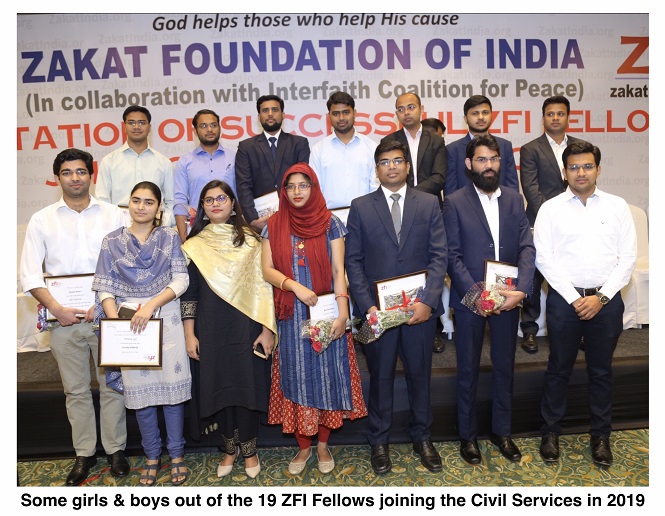 By Yasmeen Khan
As Union Public Service Commission announced civil services final examination results this year some 30 Muslims appeared in the list. Muslim Mirror talked to some of the youth at the felicitation ceremony done by Zakat Foundation who cleared the exam this year.
Zakat Foundation of India (ZFI) in collaboration with Interfaith Coalition for Peace organised a felicitation program for the 19 ZFI fellows who cleared the Union Public Service Commission (UPSC) exams this year.
During the event, many ZFI fellows shared the experience of their UPSC journey.
" It doesn't matter if you have done your schooling from a prestigious school or some of a govt. school what actually matters is the dedication level you have towards the goal," said Shafqat Amna UPSC topper from Bihar.
Shafqat Amna is the daughter of a retired teacher of the village of East Champaran, Md Zafir Alam. She secured 186th rank in the Civil Service of UPSC, and has shown a way for Muslim girls aspiring to be IAS officer in the country.
Another inspiring story is of Maulana Shahid Raza Khan, an Islamic theology graduate from Al Jamiatul Ashrafia, and a M.Phil in West Asian Studies from Jawaharlal Nehru University (JNU). He has cleared the UPSC Civil Services Exam with a national rank of 751.
Shahid, who hails from Aminabad village in Bihar, completed his schooling from Sahapur High School in Gaya in 2007. He has an Alimiyah degree from Al Jamiatul Ashrafia, an Islamic seminary in Mubarakpur, Uttar Pradesh. Shahid is one of the few graduates of a madrasa, to receive a degree from a university and then clear the prestigious civil services exam.
"I did all my schooling from Madrasa and I had no idea about the common schooling process. I had to start from a very basic level. I used to study maths that people usually study in their class 3rd. It was a tough journey to start all over from the beginning but I am glad I made it in my second attempt, said Maulana Shahid Raza Khan from Bihar.
Another inspiring story is that of Bushra Bano. Bushara , who was a professor in Saudi Arabia said that she wanted to serve her own country and that was the reason that strengthened her goal.
"I am married, I have a child and I was doing a job so I had lot of responsibilities. It is very tough to manage your home, job and study at the same time. I didn't join a coaching but I am very much dedicated towards my country and it motivated me to stay on the path of the UPSC journey'" she said.
If you have a 'killer instinct' and believe in 'never give up' then nothing is impossible for you. The story of Sayyed Riyaz Ahmed, a successful candidate from Maharashtra is the best example of it .
"I failed in grade 12 and made five attempts to clear UPSC exams in 2018 with 261 ranks. Failures are not a stumbling block for those who try harder," Ahmed told the gathering who succeeded to crack UPSC in his fifth attempt.

Another successful candidate was Rena Jamil from Jharkhand who had prepared for the exams from home through ZFI guidance.
"It gives us the confidence that though the competitive exams are challenging, there is always hope for those who work hard to achieve the heights," said Jamil, who was placed at 380 in the rank list.
The ZFI was established in 1997 as a grassroots level organization to train and empower aspirants from minority and socially backward communities to the UPSC exams.
Syed Zafar Mahmood, its president, and his team coach candidates for Civil Service examinations by placing them in reputed coaching centers.
The event was attended by SM Shakil (VP ZIF), Dr Nazira Mahmood, Justice Zakiullah Khan, Dr Tariq Mansoor (VP Aligarh Muslim University), Ms Robyn Glokoski (First Secretary, New Zealand High Commission in India), Zamiruddin Shah (ex vice chief of army staff),Prof Najma Akhter (VC Jamia Millia Islamia) and many other dignitaries from India.
[source_with_link url="http://muslimmirror.com/eng/inspiring-stories-of-muslim-upsc-toppers-2018/"]Muslim Mirror[/source_with_link]
Subscribe us on