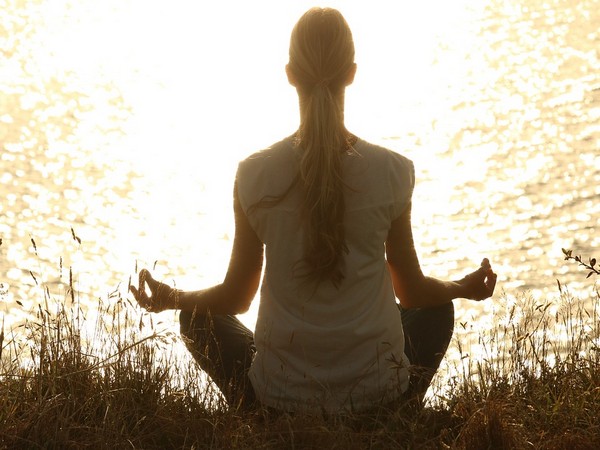 Hyderabad: Income Tax Department, Andhra Pradesh and Telangana region, Hyderabad, observed the 5th International Day of Yoga today at 7 AM by conducting Special Yoga Session for its officers and staff. The Yoga session was conducted by Dr. Praveen Kapadia, Director, of famous Gandhi Gyan Mandir, Hyderabad. He was assisted by the specialist senior yoga teachers Smt. Rani and Smt. Lakshmikrupa from Gandhi Gyan Mandir. The officers and staff actively participated in the Yoga Day celebrations.
Ni. Sankaran, IRS, Principal Chief Commissioner Income Tax, Andhra Pradesh & Telangana region, along with the senior officers and officials of the Department enthusiastically participated in the programme. On this occasion N. Sankaran, IRS, Principal Chief Commissioner of Income Tax, Andhra Pradesh & Telangana region, advised the participants to practice Yoga regularly for good health, fitness and well-being. The participants were advised to promote use of eco-friendly products in their daily use.
INTERNATIONAL YOGA DAY AT GSITI
Geological Survey of India Training Institute (GSITI), Hyderabad, celebrated the 5th International Yoga Day with the theme "Yoga for Climate Change". The function was formally inaugurated by the DDG & HOD Ch. Venkateswara Rao in presence of DDG, RTI Dr. BiswajitGangopadhyaya and other authorities. About 120 officers, staff and trainees participated in the program on 21.06.2019. In the fully packed auditorium hall of GSITI, Yoga guru Shri. Bharat Bhushan and Shri. P.S. Anil Kumar, former DDG, GSITI, explained the need and benefits of yoga in day to day life. All the members of this workshop participated with full fervor and enthusiasm.
NMDC
The Navratna Company and India's largest Iron Ore Producer, NMDC Limited joined world-wide celebration of 5th International Yoga day on Friday on 21st June 2019 at Head Office and in all its Production Projects viz., Kirandul, Bacheli, Donimalai , Panna and regional offices with synergy and enthusiasm in promoting Healthy India and to create a greater level of consciousness for Yoga for good health among employees and their family members.
Sandeep Tula, Director (Personnel) motivated the employees by their active participation in Yoga Exercises spreading a message that "Yoga and Meditation helps to live a stress free healthy life and these should be practiced as a part of our life". V.V.S. Sreenivas, CVO, NMDC also participated actively in the Yoga session.
It is pertinent to mention that NMDC has always been a fore running Organization towards pursuing the Government initiatives and programmes such as Swachha Bharat, Make In India, Cashless Transactions, Digital India and Skilled India etc.
The company, in association with Vivekananda Kendra Kanyakumari, organized a practical demonstration of common protocols of yoga at Khanij Bhawan Building, where in Yoga Teacher G.Srinivas, Head, Vivekananda Yoga Anusandhan Samsthan, Hyderabad along with two trainers Ku.Sravanthi and Surendra demonstrated Asanas and Pranayam which was followed by employees. Employees actively practiced Yoga Aasanas and Pranayam Kriya.
Similarly with much enthusiasm the Yoga sessions were organized in all NMDC projects and outstation offices where employees, their families and local people also took part.
The Institution of Engineers (India)
The Institution of Engineers (India), Telangana State Centre organized International Yoga Day-2019. The Chief Guest, Er Sekhar Gandhi, MIE, Rector, Centre for Yogic Management and Research on 21st June, 2019.The Chief Guest graced the occasion and made a Power Point Presentation about the Yoga Practices to the elite audience.
Er Sekhar Gandhi said that Centre for Yogic Management and Research established in 2011 as a NGO represented by Sekhar Gandhi offering services in terms of training, consultancy and treatment for all yoga related issues. He further said that they offer services with the following
three methodologies are Traditional Yoga related to basics concepts of yoga, like Meaning, Types and Stages of Yoga etc. Institutional Yoga related to basics of Values of Yoga like Social, Human, Professional and Ethical Code of Yoga etc. and Corporate Yoga related to basics of value based Management like Stress Management, Anger Management and Yogic Management etc.
The program mainly concludes what is Yoga? Why Yoga? And applications of Yogic Management for the benefit of Man Kind.
P V Sudhakar, Tata Projects – Representative and Alok Bharty, Yoga Scheme Manager and also spoke about International Yoga Day. Wg.Cdr V L Nandakumar, FIE, Past Chairman, IEI, APSC presided over the function. Earlier, Er T Anjaiah, FIE, Hon. Secretary, IEI, TSC welcomed the gathering and Dr M V Venkateswara Rao, FIE, Member, IEI, TSCC proposed vote of thanks.
Subscribe us on