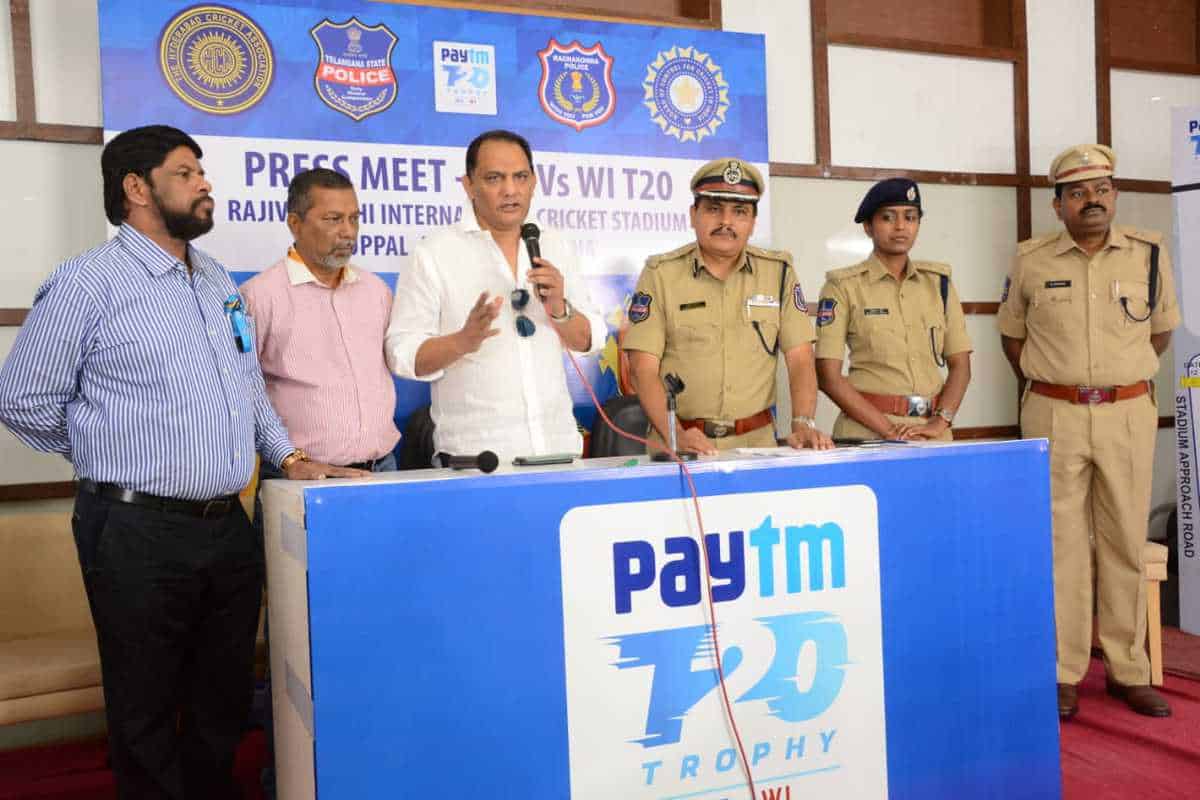 Hyderabad: Rachakonda Police Commissioner Mahesh Bhagwat said all badoubust arrangements are made for the T-20 International Cricket Match that will be held at RGI Cricket Stadium in Uppal on Friday.
Addressing the media on Thursday, the police Commissioner told that the cricket match between India Vs West Indies scheduled on Friday, 6 Dec from 1900 hours to till completion of the match, the stadium has approximately 40,000 seating capacity."
The T20 match would be Azharuddin's first assignment as an administrator after being elected as HCA president in September this year.
Newly appointed Hyderabad Cricket Association President Mohammad Azharuddin who is gearing up to host the first T20 match on December 6, said, "I think we are fully prepared. It's very a tough thing to hold a match. Since it's my first match as an administrator … when I was playing, I used to play the game and go back home or go back to the hotel. But, this thing, it's is a different responsibility," he said.
Azharuddin said he is treating this match as his debut in the shortest format since he is from the pre-T20 era.
Effective bandobusth arrangements are made in co-ordination with various wings
A total of 1800 police personals are deployed for the bandobust. In order to avoid any untoward incidents during the match day, a series of unprecedented measures were taken up at Uppal cricket stadium for the smooth run of T-20 International Cricket Match.
Various like (255) Security members, traffic (350) Members, L& O (909) members Including other districts force) Arms forces (4) platoons, Octopus, mounted police, SB, CCS, CCRB, IT Cell, Cybercrimes, Armed Reserved staff and fire tenders (5) with firefighting squad are deployed for preventing and detecting property offences and other.
In and around the stadium, a total of 300 CCTV cameras are being installed including the places at vehicle check points, parking places to cover the entire area. A Joint command & control room is also established at South side of the stadium at G-6 Box to monitor all the CCTV footages for taking immediate action. (IT Inspector and teams). Anti-sabotage checks with the help of B.D teams would continue round the clock until the match is completed.
Effective communication system is being maintained with the allocation of VHF sets to every Sub-Inspector and above rank for quick response and also a control room was installed. The scanners installed at the stadium will allow police and other security personnel to detect explosives and other prohibited material inside the venue. The services of bomb disposal team and sniffer dogs were pressed into service.
The Check posts were set up at all the entry points of stadium to carry out anti-sabotage check and frisking of persons. An escort vehicle of law and order is being arranged along with escort vehicle of City Security Wing. A Road Clearance Party, specifically for route clearance was spared for congestion free entry and exit of the players and VIPs, VVIPs into the stadium.
A separate teams are being deployed for checking the movements of antisocial elements. In this match deploying (04) mobile technician at each gate for checking of spectators mobile phones. Additional bandobusth arrangements made in and around the stadium round the clock with octopus teams. Mounted Police force is deployed at gate No's-1, 3, 4, 7 & 8 for effective bandobusth.
The Hyderabad Metro rail authorities have extended their timings up to 0100 AM for spectators. The spectators are not allowed to carry electronics gadgets, metal or plastic items and other such banned items.
A separate SHE Teams/Anti-Eve-Teasing team has been established in order to control the eve teasing against woman. A separate vendor supervising (Vigilance) teams are established to control the vendors and their rates as prescribed by the authorities.
Subscribe us on