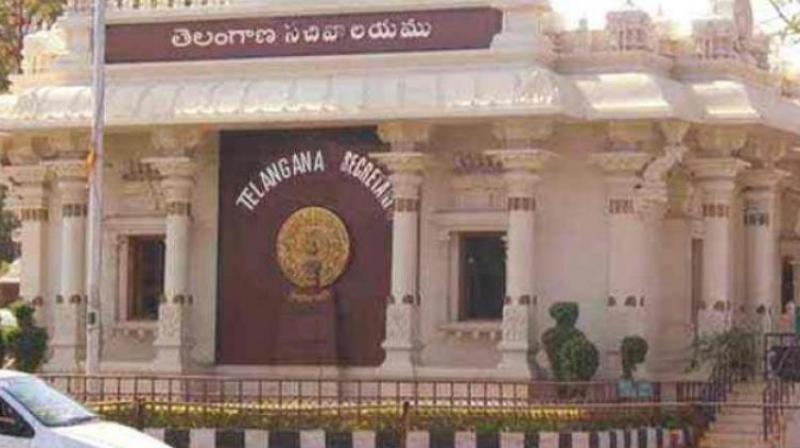 Hyderabad: Three ministers – Guntakandla Jagadish Reddy, Singireddy Niranjan Reddy and Vemula Prashant Reddy – took charge of their offices in the Secretariat on Thursday morning.
While Jagadish Reddy assumed office as Education Minister in the Secretariat in D Block at 237 chamber, Agriculture Minister Niranjan Reddy took charge of his portfolio in the 261 chamber at 11.25 am. Vemula Prashant Reddy took charge as Minister for Roads & Buildings, Housing and Legislative Affairs at chamber no. 313 at 3 pm.
Jagadish Reddy took charge in the presence of TRS senior leader G Sukhender Reddy and others. Veda Pundits performed special pujas and blessed the minister. Speaking on the occasion, Jagadish Reddy profusely thanked Chief Minister K Chandrashekhar Rao for giving him the ministerial post after the party retaining power for second consecutive time. He said KCR has clarity on giving free and quality education from KG to PG level. Giving 100 per cent quality education will help a generation to avoid problems and make better living through jobs.
"During statehood movement, KCR had announced the scheme and was implementing now with a view that the students should not make rounds at crossroads with certificates for jobs. For this, the government has taken several steps to provide education to all communities in the State. The government was taking steps to control private schools and fees", he said, adding that "Telangana was formed when the schools were lacking minimum facilities and we are taking steps to set them right. On formation of the new State, we have focused on welfare, agriculture, industry, education, health and other sectors, the minister said.
Farmers' welfare priority: Niranjan Reddy
Singireddy Niranjan Reddy, who took charge as Agriculture Minister at the Secretariat, said he would work as per guidance and expectations of Chief Minister K Chandrashekhar Rao. The State government was making relentless efforts for development of agriculture sector and welfare of the farmers, he said. "Agriculture sector in the previous united AP State was totally ignored and devastated and now in Telangana the situation has totally changed. Chief Minister K Chandrashekhar Rao was working for a long-term objective to make farmer as King", he said. Irrigation projects are being completed on a war-footing to flourish agriculture sector with priority, he said.
The government was providing 24-hour free power supply to farming community. He also claimed that Rythu Bandhu is a great scheme in the country being adopted by several States and the Centre. The scheme was helping the farmers to live with self-respect in Telangana, the Agriculture minister said. He also said the State government was according top priority to the agriculture sector to ensure that the farmers get MSP to their produce. Niranjan Reddy extended thanks to the Chief Minister for offering him the responsibility as a minister.
Indebted to party supremo: Vemula
Vemula Prashant Reddy took charge as minister for Transport, Roads & Buildings, Housing and Legislative Affairs in the Secretariat in the presence of Nizamabad MP Kavita, MLAs Padma Devendar Reddy, Gongidi Sunita, Ganesh Gupta, Bajireddy Govardhan, MLC Palla Rajeshwar Reddy, former AP Speaker Suresh Reddy, special chief secretary Housing Chitra Ramachandran and others.
Speaking to the media after assuming office, Prashant Reddy said Chief Minister K Chandrashekhar Rao was like his God. He said he will be indebted to KCR in his life for making him a minister. He also said he would follow footsteps of the party supremo and work as per his wishes.
[source_without_link]NSS[/source_without_link]
Subscribe us on