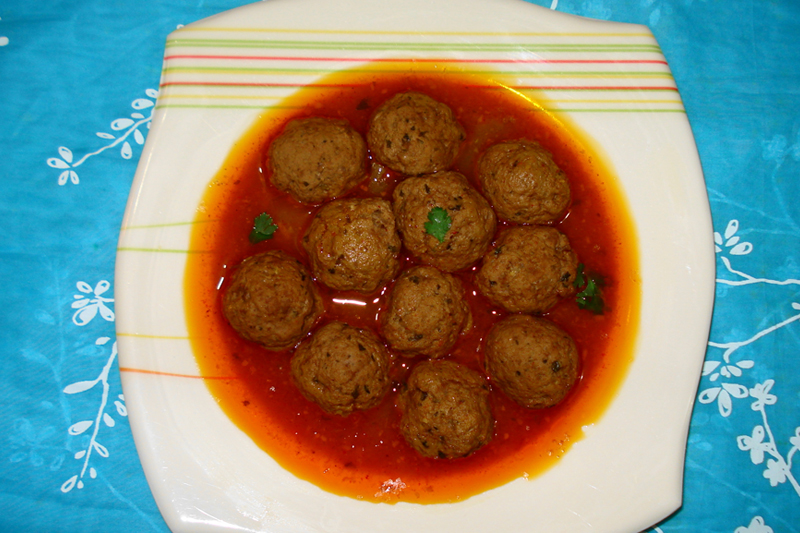 Ingredients 
Mutton kheema 500 grams (very finely minced)
Onions 3 (chopped finely)
Garlic 6 cloves
Ginger 1 (finely sliced)
Green chillies (finely chopped)
Besan or Bengal Gram Flour
Red chilli powder 1 Tbs
Cumin Powder 2 Tbs
Coriander powder 1 Tbs
Bay leaf 2
Peppercorns 8
Cardamom 5
Cinnamon sticks 4
Cloves 5
Star Anise 2
Oil 5 Tbs
Salt to taste
Method
In a mixing bowl, add mutton kheema, chopped green chillies, salt, some of the chopped ginger and onions.
Mix all of them well.
Koftas gravy
In a thick bottomed pan, heat some oil. When the oil crinkles add pepper, cloves, cardamom, cinnamon and star anise.
About 1/2 a minute later, add bay leaf and saute the remaining chopped onions until they are deep golden brown.
Add chopped finely ginger and garlic and cook for 3 minutes. 
Now comes the turn of tomatoes. Sprinkle salt and let it cook on low flame for about 5-7 minutes.
Back to Koftas
Add besan flour to the mutton kheema and mix well.
Take a deep pan and add oil and let it get heated up on high temperature.
Take small portions of Kheema mix and make small balls out of it. Aviod making large or else the core will not cook.
Fry them until they are crisp.
Back to Curry
Add red chilli powder, cumin and coriander powder and give a good mix for about 2 minutes.
Add the mutton kheema koftas to the curry and let it get cooked for about a minute.
Add water to the curry depending on how much one wants it to be thick or lose.
Cover and cook for 20 minutes.
Garnish it with freshly chopped coriander leaves.
Delicious kofta curry is ready to serve.
Subscribe us on