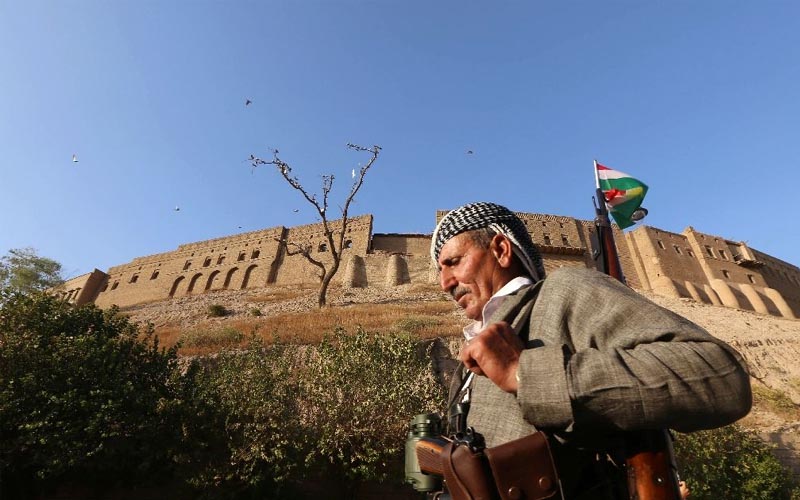 PARIS: The Kurds are a non-Arab ethnic group of between 25 and 35 million people spread mainly across Iran, Iraq, Syria and Turkey but without a state of their own.
– Across four countries –
The Kurds inhabit largely mountainous, regions across southeastern Turkey through northern Syria and Iraq to central Iran.
The greatest number live in Turkey, where they account for about 20 percent of the overall population.
Kurds also make up 10 percent of the population in Iran, 15-20 percent in Iraq and 15 percent in Syria.
There are also smaller communities in Armenia, Azerbaijan and Lebanon, as well a large diaspora in Europe, particularly Germany.
The Kurds have preserved their own distinct culture, dialects and clan-based social structures.
– Broken dream –
The collapse of the Ottoman Empire at the end of World War I opened the way for the creation of a Kurdish state, which was provided for in the 1920 Treaty of Sevres.
However Turkish nationalists, led by army general Mustafa Kemal Ataturk, opposed the harsh terms of the treaty and launched a new war.
It resulted in a new accord, the 1923 Treaty of Lausanne, which established the boundaries of modern Turkey and effectively drew a line on international support for an independent Kurdistan.
But the Kurds have retained ambitions for a unified nation that are seen as a threat by the governments all four of the main countries where they live.
– Turkish threat –
In Turkey, the rebel Kurdistan Workers' Party (PKK), which has waged a 35-year insurgency against the army in the mainly Kurdish southeast, is outlawed as a terrorist organisation.
Its founder Abdullah Ocalan has been behind bars since 1999.
In Syria, the Kurds have been oppressed by successive governments for decades.
After civil war broke out in 2011, they took advantage of the chaos to set up an autonomous region in the north — to Turkey's alarm.
Turkey has since carried two cross-border offensives targeting Kurdish forces in neighbouring Syria, in 2016 and 2018. It launched a third on October 9, 2019.
– Statehood vote fiasco –
In Iraq, Kurds were persecuted under the Sunni Arab-dominated regime of Saddam Hussein and rose up after Iraq's defeat in the 1991 Gulf War.
They established de facto autonomy in the north, which was formalised by Iraq's 2005 constitution.
In 2017 Iraq's Kurds overwhelmingly voted for independence in a non-binding referendum.
Baghdad was furious and, in retaliation, seized a swathe of Kurdish-held territory, including oilfields that were the mainstay of the autonomous region's finances.
In Iran, where a Kurdish uprising was harshly repressed in 1979, several Kurdish rebel groups have carried out attacks from bases in neighbouring Iraq.
– Spearhead against IS –
The SDF were the main ground partner in the protracted US-led campaign against the Islamic State group in Syria, losing 11,000 fighters before finally overrunning its self-proclaimed "caliphate" in March.
Western governments have provided the Kurdish-led Syrian Democratic Forces with air cover, arms and training, although they supplied no heavy weaponry following pressure from Ankara.
– Internal divisions –
The Kurds have never lived under a single, centralised government and are split among rival parties and factions.
Some of these groups have close ties. Others are at daggers drawn because of conflicting alliances with the governments among whom the Kurdish heartland is divided.
Iraq's two main Kurdish parties, the Kurdistan Democratic Party (KDP) and Patriotic Union of Kurdistan (PUK), fought a internecine civil war between 1994 and 1998 that left 3,000 people dead.
Source:
Agence France-Presse
Subscribe us on