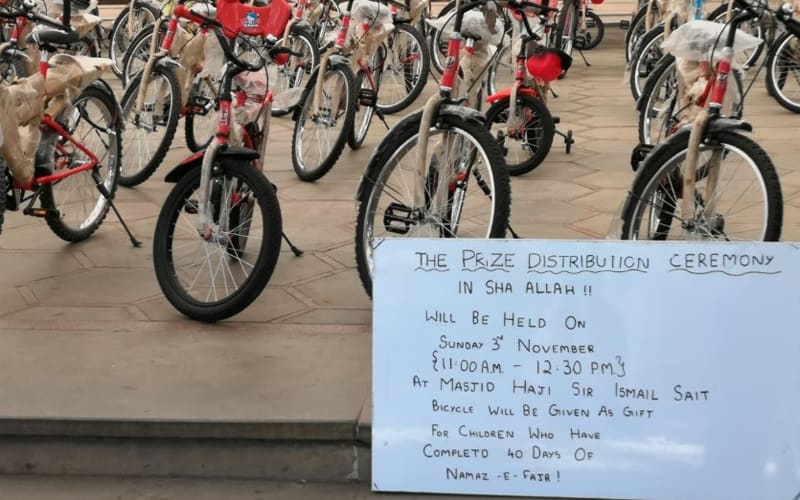 BENGALURU: About ninety nine children in Bengaluru has been presented with awards by a local mosque for attending Fajr (dawn) prayers in congregation.
The day marked as a one of the most beautiful moments, one of the most beautiful celebrations and one of the most wonderful days when the kids received the brand new bicycles for offering Fajr prayers for 40 days consecutively at the Hajee Sir Ismail Sait Masjid in Bangalore's Frazer Town.
Creative Imams
Announced last month, the mosque committee sponsored the initiative aimed at encouraging the children to keep up with their Fajr prayers.
According to the organising committee, two hundred children signed up in total and 99 children manage to offered Fajr in the congregation for full 40 days in a row while 13 children attended the prayers for 35 days in the congregation.
The rest of the children who didn't manage were gifted with new wrist watches for their efforts.
Not the first
According to media reports, the Bengaluru mosque is not the first to launch such a highly remarkable initiative.
The idea of the competition follows similar ones around the world in Egypt, Malaysia, England and Turkey.
Unique way
It is a unique way by the committee to encourage children to fill up the mosque. In the beginning, they might come to offer the Fajr prayers for the sake of free bicycle gifts and also encourage their friends, but over time, their interest to perform prayers will grow.
The initiative is well-received by the community and have been started by local masjids in the city.
"Whoever purifies himself for ablution in his house and he walks to a house among the houses of Allah in order to fulfil an obligation among the obligations of Allah, then one step of his will expiate his sins and another step will elevate his status." Sahih Muslim
Subscribe us on