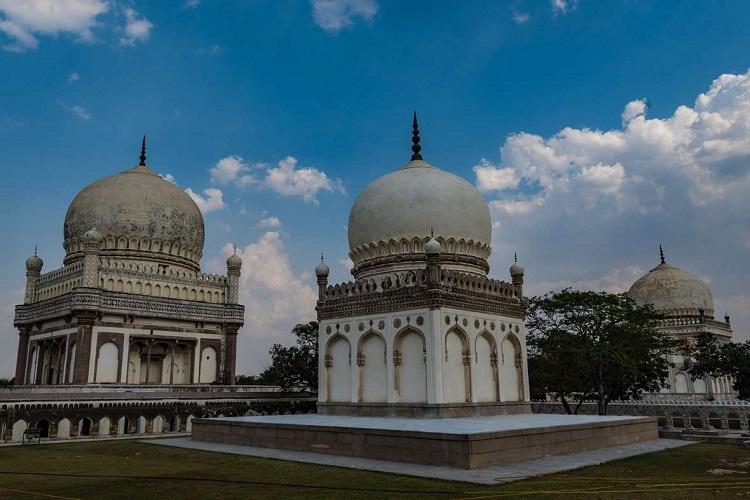 Hyderabad: The restoration of the mausoleums of Hakims and Commander at the well-known Qutub Shahi Tombs here has been completed with the support under the Cultural Preservation Programme of Germany.
Three structures in the Qutb Shahi Heritage Park, as the entire complex is called, have been restored to their former glory under the ongoing restoration project undertaken by Aga Khan Trust for Culture (AKTC), officials said.
For the Conservation effort at Hakim's and Commander's mausoleum, Germany under its Cultural Preservation Programme provided funding of 75,000 euros through the Consulate General in Chennai.
Consul General Karin Stoll attended the completion ceremony on Friday. She expressed happiness over the restoration.
The tombs or mausoleums of Hakims and Commander were among the few such structures built for non-royals in Qutub Shahi Tombs, the unique royal necropolis spread over 108 acres at the foot of the majestic Golconda Fort.
Hakims were the traditional physicians of rulers of the Qutub Shahi dynasty (1518-1687).
Over 15,000 man-days of work were carried out by stone carvers, masons, plasterers and stucco plaster specialist craftsmen for a restoration of tombs of Hakims and Commander.
The highly ornate mausoleums of Hakims and Commander were built by Sultan Muhammad Qutub Shah. All three structures were profusely ornamented with stucco plaster and their majestic domes topped by copper finials.
"Conservation works on these structures were preceded with a 3D laser scanning that allowed a precise condition assessment of these significant monuments. Conservation works carried out by master craftsmen using traditional materials – lime mortar and stone and traditional building tools and techniques were supervised by a multi-disciplinary AKTC team," said Prashant Banerjee, the AKTC senior conservation architect.
Conservation works on the 80 monuments in the complex commenced in January 2013 following a MoU between the Department of Heritage, the Telangana government and AKTC. The project will continue until 2023.
The complex has 40 mausoleums, 23 mosques, six 'baolis' (step-wells), a 'hamam' (mortuary bath), pavilions and garden structures, each with its striking grandeur and a unique synthesis of architectural styles.
The monuments in the complex are a blend of Persian, Pathan and Hindu architectural styles and built with local granite and traditional materials.
[source_without_link]IANS[/source_without_link]
Subscribe us on