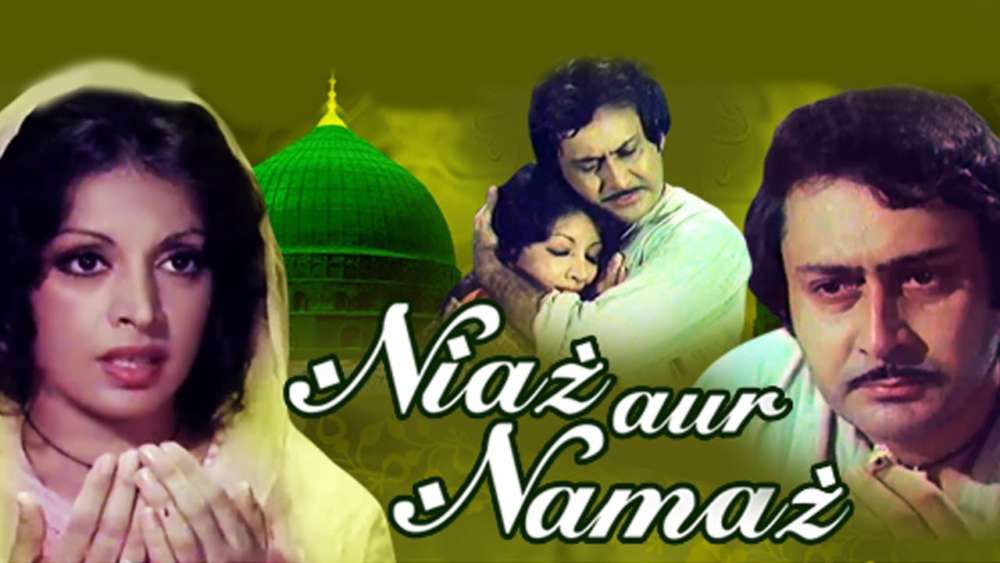 Some movies made in the 1970s and 1980s depicted the 'popular' facet of Islam where divine intervention changes lives and create a synthesis of Sufi influence.
Niyaz aur Namaz, released in 1977 is one such film which shared images and music widely popular in Islamic culture and practices in India which Niyaz aur Namaz did with felicity like, for example, Hindu devotional Jai Santoshi Maa and reaped a rich harvest at box office. It is rather regarded as a devotional could not be missed. The other films fall in this category were Mere Gharib Nawaz and Dayar-e-Madina.
These films were usually made on a shoestring budget with non-stars. Though the Muslim social and the courtesan films graced the silver screen frequently, the Muslim devotional films were mostly made 30-40 years ago with religion only as part of the social and cultural life. Such movies often focussed on the shrine of Garib Nawaz in Ajmer. There were also films that were made on other popular pilgrimage sites. They all did well at the box office largely because of a couple of hummable devotional songs. On the same time, a segment of the often unlettered audience that accepted everything in the name of faith.
The biggest among such films was Jai Santoshi Maa which surprised everybody with its record run at the box office. For a low-budget film it matched the profits of blockbuster Sholay, if not collections. For months cinema halls screening the movie, held the houseful boards high. Ladies would perform pooja when the immortal song Main toh aarati utaroon re Santoshi Maa ki was played in the theatres.
Parallel to the Hindu devotional stream was a sub-stream of Muslim devotionals. If Hindu devotionals were usually released in theatres screening big star films, Muslim devotionals, almost entirely predictably, played at show houses near places of Muslim predominance.
The big banner films generally avoided the release of their films in Ramzan, the month of fasting, since a big chunk of Muslim audience stayed away from films. This was not the case with the Muslim devotionals as they ran during this month. The assumption being that these films, like the Hindu mythological, were not regarded as entertainment but an extension of faith. The success of Niaz aur Namaz (1977) was particularly impressive with the Urdu language devotional film even managing a silver jubilee run in regular shows at a cinema hall like Lata, Nampally. Lata Talkies, as it was popularly known, was otherwise renowned for playing the best of Hindi films with a silver jubilee run. Lata Talkies, from its launch in 1968 with Neel Kamal up to Pakeezah in 1972 was known for screening mainstream movies. The Muslim devotional films which reaped rich moolah were simultaneously screened for weeks together in Old City theatres too.
Dayar-e-Madina film begins with Qari Mohammed Mewati's complete azan or prayer call followed by a little lecture on the five basic principles of Islam. Not to forget the likeable song Madad kijiye Taajdar-e-Madina in the movie. Incidentally, the film's music by Mohammed Shafi stayed on in the memory of cinegoers long after the film's showing was over. A couple of cassette-sellers in the neighbourhood of cinema chose to play Madad Kijiye Tajdaar e Madina in the voice of Mohammed Rafi to attract the faithful. Interestingly, the same song sung by Asha Bhonsle, though perfectly melodious, met with a lukewarm reception in the old city streets.
Coming back to the devotional, one that could not be missed was Niaz aur Namaz where public trooped along to the vicinity of the theatre has the most hummable Ibteda tu hai, Inteha tu hai qawwali sung by Mohammed Rafi and chorus in the composition of Shyam-Ghan Shyam. The song takes us to a different world. It's a masterpiece from the heart touching the divine voice of Rafi which will be always be remembered. Parikshit Sahani and Zahira were in the lead roles with Anjum and Hasrat Jaipuri penning the songs. Niyaz aur Namaz ran to full house in Lata talkies and completed silvler jubilee run. My memory says this is the first fully devotional film portraying Islam to celebrate silver jubilee run in regular shows. Jai Santoshi Maa completed one year run in Dilshad Theater but only in morning shows. I never saw the film, still knew about it's popularity as I stayed near Lata talkies.
Prof. K. Sudhir Kumar is former Dean, Journalism & Media Studies with Telugu University. He has a keen interest in movies, especially in Hindi/Urdu and Telugu languages
Subscribe us on