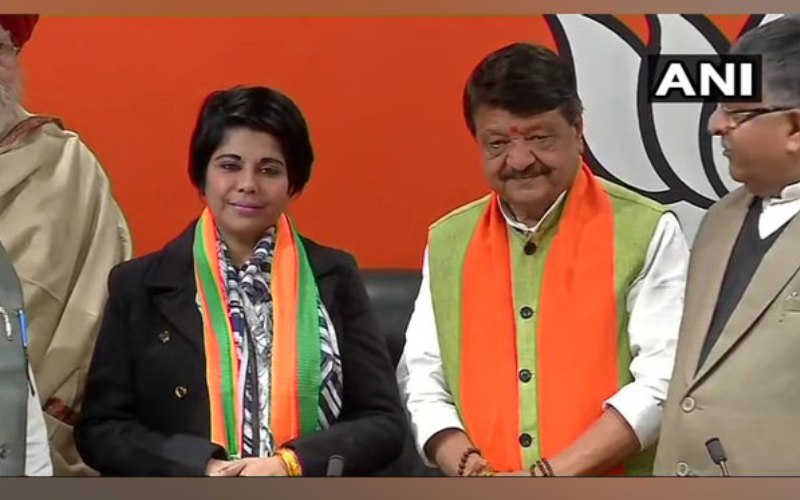 New Delhi: At a time when Kolkata police commissioner Rajeev Kumar is under the CBI's scanner, ex cop Bharti Gosh a former close aid of West Bengal chief minister Mamata Banerjee on Monday joined the BJP.
Retired IPS officer Ghosh, joined BJP in the presence of Union Minister Ravi Shankar Prasad, BJP leaders Kailash Vijayvargiya and Mukul Roy.
Immediately after joining BJP, she lashed out at West Bengal chief minister, terming her Dharna as a "political move' and an 'asatyagraha to block fair investigation'.
"This satyagraha should have been done when people lost crores of money and suicides were happening. Why it did not happen? You are doing this (dharna) for a police commissioner?" Ghosh told reporters.
Later speaking to ANI, she claimed that democracy needs to be restored in West Bengal.
"I am in favour of truth, honesty and good governance. When Mamata was in opposition, her image was pure but now a lot has changed. When people move from the truth to falsehood Bharti Ghosh also changes. So I have come to BJP to foster the institution of democracy and to help people."
She also criticised the Kolkata police commissioner for being present at the TMC Dharna and said, "The neutrality of this police personnel will be questioned. By attending a political dharna they have given a clear message that they are working for that particular party and have become like party cadre."
Once considered a TMC insider, reportedly she was even restrained by EC from poll duties during the West Bengal Assembly elections of 2016, following complaints against her.
At that time BJP had hailed the decision with BJP state president Dilip Ghosh calling her a failed cop.
"Bharati Ghosh is a failed SP,who was once stoned by KGP people. I welcome the recent step of Election commission," Dilip Ghosh had tweeted on March 19, 2016.
Interestingly, Bharati Ghosh was inducted in the BJP comes a day after West Bengal Chief Minister started her protest following a showdown between the CBI and Kolkata Police.
Five CBI officials had moved to arrest the city's Police Commissioner Rajeev Kumar, although they were denied entry to the latter's residence and later detained.
CBI interim director M Nageshwar Rao had said that Kumar had tampered with evidence in the Sarada chit fund scam and there was proof to corroborate the same.
A number of Opposition leaders including Samajwadi Party president Akhilesh Yadav, National Conference leader Omar Abdullah, DMK president MK Stalin have expressed solidarity with Mamata.
Congress president Rahul Gandhi also extended his support to the TMC supremo, stating that the events in Bengal are happening because of the "unrelenting" attack on India's institutions by Prime Minister Narendra Modi and the BJP.
[source_without_link]ANI[/source_without_link]
Subscribe us on