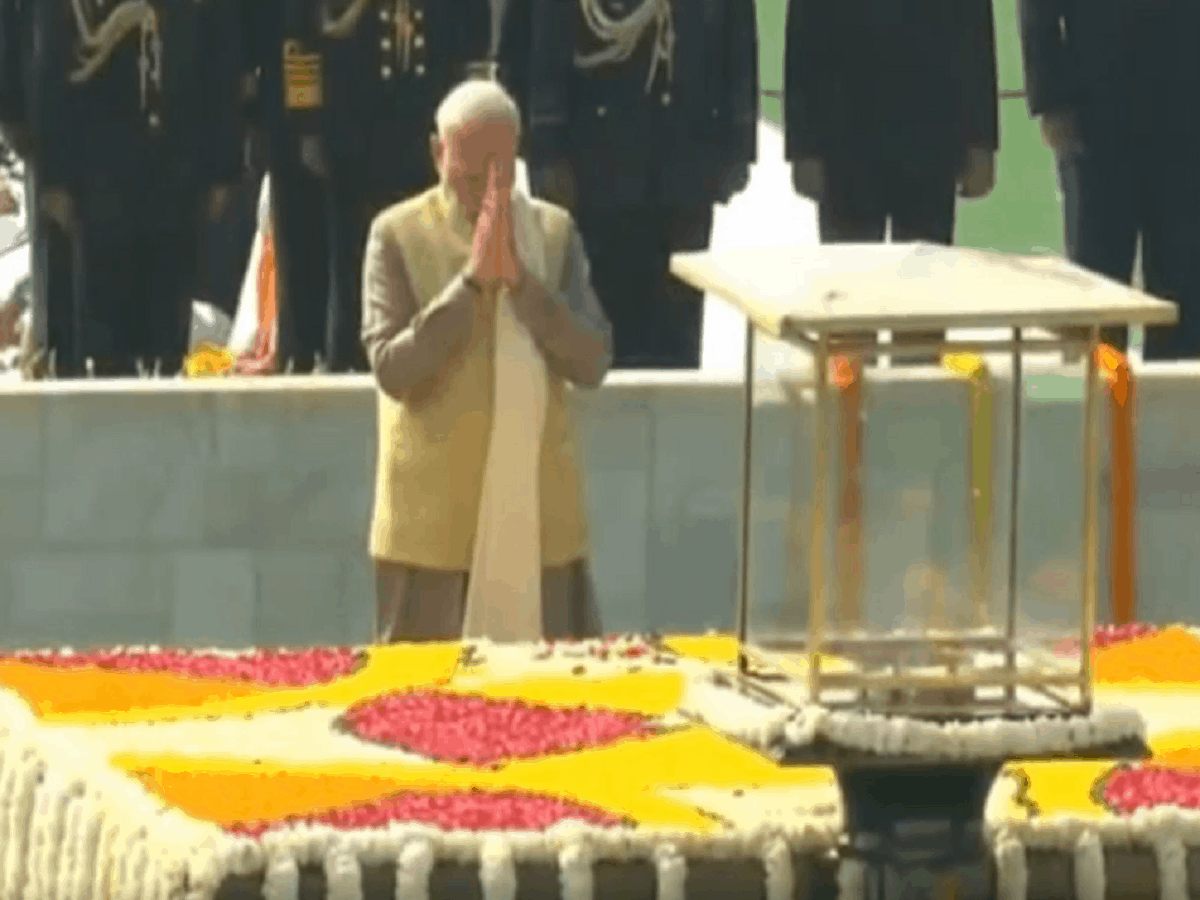 New Delhi: President of India Ram Nath Kovind, Prime Minister Narendra Modi, Union Home Minister Amit Shah and opposition leader Sonia Gandhi and others on Thursday paid tributes to the Father of the Nation Mahatma Gandhi on his 72nd death anniversary.
President Kovind, PM Modi and Vice President Venkaiah Naidu offered floral tributes at Gandhi's memorial Rajghat where an interfaith prayer was held.
President Ram Nath Kovind pays homage
"President Kovind's homage to Mahatma Gandhi and said "In his final sacrifice, Gandhiji left a constant reminder for us: Unconditional love, especially for the other. I am confident, more of us will discover Gandhiji's true message," President's office said in a tweet.
Prime Minister Narendra Modi offers floral tribute
Prime Minister Narendra Modi tweeted and said, "I salute to the Father of the Nation, Mahatma Gandhi on his Martyrs Day. The Personality, Ideas and, Ideals of the Mahatma Gandhi shall continue to inspire us to build a strong, able and prosperous New India".
Amit Shah also tweeted and said, "Mahatma Gandhi's teachings are as relevant today as they were decades ago. He inspired not only India but the entire world to follow the path of truth and non-violence. Today, Narendra Modi has done the work of realizing Gandhiji's dream of clean India."
President of Congress Sonia Gandhi joins beeline
The opposition Congress also gave tribute to the Mahatma as its top brass including former Prime Minister Manmohan Singh and Sonia Gandhi made a beeline at Raj Ghat to pay respects to the Father of the Nation.
"On the death anniversary of Mahatma Gandhi, we celebrate Martyrs' Day to honor the sacrifices made by him and countless brave Soldiers. Today we remember the ideals that these valiant souls sacrificed their lives for Justice, Liberty, Equality, and Fraternity," Congress leader Sonia Gandhi said.
CM of Telangana KCR remembers Gandhi
Honourable Chief Minister Sri Chandrashekhar Rao has said that the path laid by Mahatma Gandhi to achieve peace through non-violence and Satyagraha is always implementable.

The Chief Minister remembered Mahatma Gandhi on the occasion of Father of the Nation's death anniversary today. "Mahatma Gandhi's message showed that any difficult task can be attained through Satyagraha and it showed solutions to many a difficult task," said Chandrashekhar Rao.
Subscribe us on