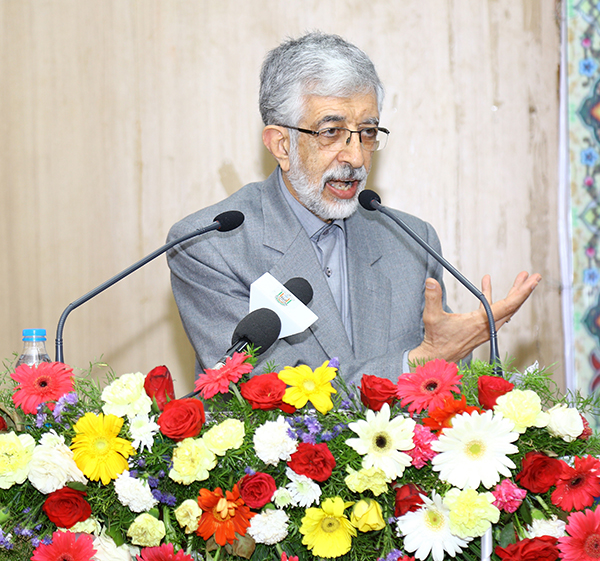 Hyderabad: Persian and Urdu languages are interlinked with each other. Flourishing of one language will lead to strengthening of another. Noted Persian Scholar, Prof. Gholam Ali Haddad Adel, Former Speaker, Iranian Parliament expressed the view today while addressing the inaugural session of 3 day international conference "Contribution of Deccan (India) to the Persian language and literature" being organized at Maulana Azad National Urdu University (MANUU) in connection with the 36th All Indian Persian Teachers Association's (AIPTA) Conference.
Dr. Mohammad Aslam Parvaiz, Vice-Chancellor presided over the inaugural. Prof. Haddad Adel also paid rich tributes to Maulana Abul Kalam Azad, the first Education Minister of India and a noted Persian Scholar. Prof. Adel, speaking as the Chief Guest also praised the time tested Indo-Iranian friendship. India, especially Hyderabad gives me a homely feeling, he remarked. He also spoke about the contribution & impact of the Persian language in Medieval India and its role in the propagation of Islam.
Dr. Mohammad Aslam Parvaiz in his presidential address referred and praised the usage of Persian language in Iran to promote knowledge. We need to adopt the same approach towards Urdu, he said. He also advised the teachers to work hard to make Urdu the language of knowledge.
Prof. Azarmi Dukht Safavi, President, Association in her keynote described the Deccan Plateau as a constant melting pot of different cultures and languages. This has been the hallmark of India, she noted. Quoting various Historians she said, that Persian impact on Indian Languages is a fact even today which cannot be denied. Unision of Sufi and Bhakti schools of thoughts gave way to the syncretic society in Deccan. The patronage provided to Persian and Urdu Languages by the Nizam of Hyderabad is unforgettable. Influence of Persian and its penetration in Deccani Culture began even before the arrival of Khilji in the 13th Century. Languages which came into existence after the establishment of Muslim Rule were affected by Persian. Iran's impact on Deccan is also noticed in the realm of the visual art, importation of Persian architecture and its intermingling with Indian Style. Prof. Safvi also spoke about the contribution of modern scholars from Hyderabad to promote Persian Language and Literature.
Padmabhushan Moosa Raza, IAS (Rtd.), Chairman, South Indian Educational Trust and Forum for Democracy, Chennai, Guest of Honour, spoke about the Persian Manuscripts of poetry preserved in the Chennai libraries. Persian vocabulary in Indian languages is in use even today, he claimed by recounting his personal experiences.
Prof. K. Muzaffar Ali Shahmiri, Vice Chancellor, Abdul Haq Urdu University, Kurnool invited the research scholars to the treasure house of Persian literature available in Rayalseema region. This area is still unexplored, he remarked. Mrs. Lakshmi Devi Raj, Prof. Mahroo Haddad Adel and Mr. Ehsan Ullah Shukar Ilahi also addressed the inaugural. Two books were also released on the occasion. Prof. Iraq Raza Zaidi, General Secretary, Association conducted the proceedings. Prof. Shahid Naukhez Azmi, Local Secretary, Conference & Head, Dept. of Persian proposed vote of thanks. More than a hundred Persian teachers and scholars including delegates from Iran and Afghanistan are attending the three-day conference.
Subscribe us on