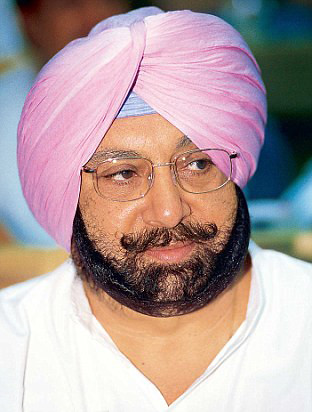 Chandigarh: Punjab Chief Minister Amarinder Singh on Friday sought Pakistan Prime Minister Imran Khan's intervention over reports of a Sikh girl in Pakistan allegedly being abducted and forced to convert to Islam.
"Shocking incident of a Sikh girl being kidnapped and forced to convert to Islam in Nankana Sahib, Pakistan," the Chief Minister tweeted, tagging a video.
Amarinder called on Khan to take firm and immediate action against the perpetrators.
He also urged External Affairs Minister S. Jaishankar to take up the issue with his Pakistani counterpart at the earliest.
In the video message, the family of the girl has claimed that she was abducted and forcibly converted to Islam.
The family alleged that she was "abducted" and "threatened" that if she didn't convert into Islam, her brothers and father would be shot dead.
"The girl who was abducted yesterday is my sister. She was threatened by some goons that her brothers and father would be shot if she did not accept Islam," said her brother Surinder Singh of Nankana Sahib.
"We went to a police station to register a complaint. We met many senior officials but they have not listened to us. The men came to our house again, forced us to withdraw our complaint and threatened that they will force us to convert to Islam if we pursued the complaint," he said.
"I request Prime Minister Imran Khan and the Chief Justice (Asif Saeed Khosa) to help us bringing her back," he added.
The 19-year-old girl is the daughter of a 'granthi' (priest) of Gurudwara Tambu Sahib and was converted to Islam at gunpoint.
Her family said they will self immolate themselves in-front of the Punjab Governor's house on August 31 if the girl was not released.
Several videos related to the incident went viral.
In a clip the girl introduced herself as Jagjit Kaur, 19. Her 'nikahnamaa' was read out and she was asked for her consent for marrying Mohammad Hussain Zulfikar.
Delhi Sikh Gurudwara Management Committee (DSGMC) President and Akali Dal leader Manjinder Singh Sirsa condemned the incident.
He urged Prime Minister Narendra Modi and External Affairs Minister Jaishankar to take up the matter at the global level as the forced conversions in Pakistan have angered Sikhs.
"This issue must be taken up at @UN as it threatens Sikhs' freedom of religion," Sirsa tweeted.
Subscribe us on