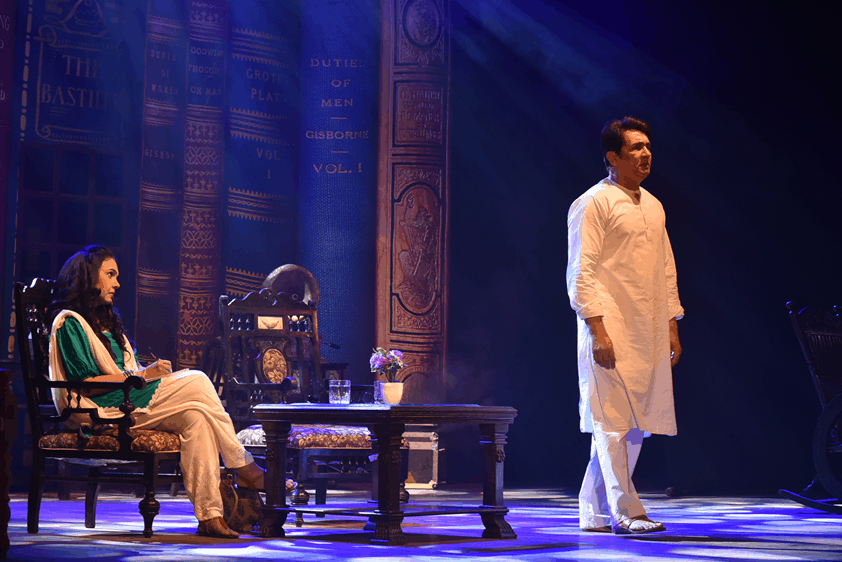 Hyderabad: A powerful Day Two of Qadir Ali Baig Theatre Festival 2019 followed the Foundation's much applauded 'My Father – His Exalted Highness'. Urdu was brought centrestage in the breathtaking 'Ek Haan, directed by Randhir Ranjan Roy.
Written eloquently by Neha Kargeti with adaptations of celebrated writer Manto's short stories, the play was a fictionalized encounter between the writer, played by virtuoso Shekhar Suman and a journalist, played by the charming Suchitra Krishnamoorthi. Soul-stirring music by Parivesh Singh with vocals by Rekha Bhardwaj and Shahid Mallya brought to life the pathos of the post-Partition era.
Four of Manto's short stories were brought to life by the director with vibrant enactments, the most notable being 'Toba Tek Singh' and 'Akalmand'. Shekhar Suman mesmerised the audience with his voice, Urdu diction and transformation into multiple characters. Suchitra Krishnamoorthi was effortless in her roles as journalist as well as Manto's characters. Impressive cameos were by Neha Kargeti, Amit Ghosh and Vikas Tiwari.
The packed house audience was heard appreciating the Urdu writing and performances.
Subscribe us on