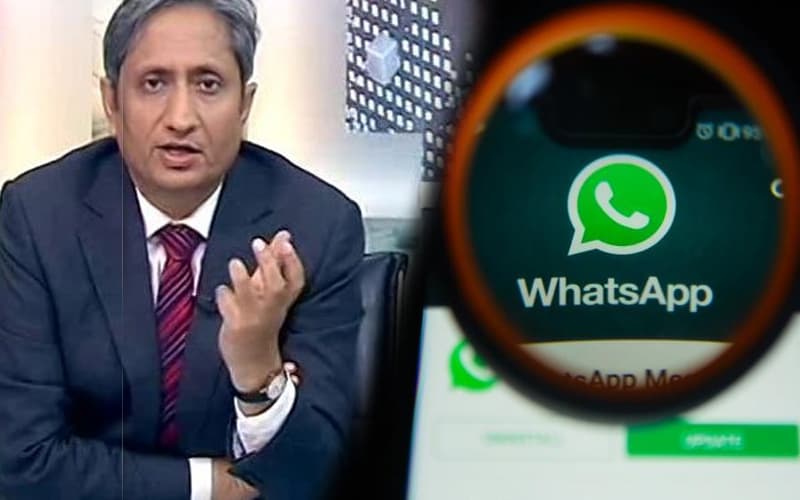 NEW DELHI: Around 1,400 WhatsApp users in 20 countries and at least two dozen Indians, including academics, lawyers, and Dalit activists were targets of surveillance by operators using Israeli spyware Pegasus, The Indian Express reported on Thursday.
WhatsApp, the hugely popular instant messaging platform is the biggest market with some 400 million active users.
The startling revelation by The Indian Express Seema Chisti reported that the highly sophisticated malware developed by Israeli NSO Group can reportedly switch on a target's phone camera and microphone, and access data on it.
A detailed reported by NDTV Ravish Kumar in his Prime Time show stated that the notorious spyware also linked to Saudi journalist and Washington Post contributing writer Jamal Khashoggi case.
Pegasus link to Khashoggi
According to New York Times report, the Israeli software helped Saudis snooped on Khashoggi.
A Canada-based Saudi dissident close to Khashoggi currently involved in a lawsuit accusing NSO Group alleged that the [Saudi] royal court had access to Mr. Khashoggi's phone using Pegasus software and that the malicious software helped the Saudis spy on Khashoggi.
Here's is the report
Here's the targeted Indian scribe, activist
At least 10 activists have come forward to confirm that they received calls from Canada-based research group Citizen Lab informing of being targeted by the snooping software by Facebook-owned WhatsApp messaging platform using the spyware:
Bhima-Koregaon Link
Nagpur-based lawyer Nihalsing Rathod, who heads the Human Rights Law Network and is accused in the Bhima Koregaon case was contacted by WhatsaApp about the security breach.
Rupali Jadhav, an activist, and one of those contacted by WhatsApp said she suspected that she was targeted for her work on caste, class and gender rights.
Chhattisgarh-based activist Shalini Gera of the Jagdalpur Legal Aid Group involved in the case as Sudha Bharadwaj's lawyer," who is one of the accused in the Bhima Koregaon case.
Chhattisgarh-based human rights activist Bela Bhatia was targeted by Pegasus.
Anand Teltumbde, academic and writer on Dalit issues, who is also an accused in the Bhima Koregaon case was informed by the Citizen Lab of being targeted.
Shubhranshu Choudhary, former BBC journalist who works in Chhattisgarh as a peace activist was informed by the Citizen Lab of being targeted of surveillance over WhatsApp.
Seema Azad, an activist with the People's Union for Civil Liberties based in Allahabad informed of being targeted by the snooping software on the messaging platform.
What has WhatsApp claimed?
"Indian journalists and human rights activists have been the target of surveillance and while I cannot reveal their identities and the exact number, I can say that it is not an insignificant number," a WhatsApp spokesperson said.
Israeli NSO refuted claim
The Israeli NSO, denying any wrongdoing, stated, "Our technology is not designed or licensed for use against human rights activists and journalists" and is licensed only to "vetted and legitimate government agencies".
India seeks answers from WhatsApp
New Delhi has asked WhatsApp to "explain the kind of breach and what it is doing to safeguard the privacy of millions of Indian citizens," information and technology minister Ravi Shankar Prasad wrote on Twitter, denying the government had used the malware to spy on its citizens.
Subscribe us on