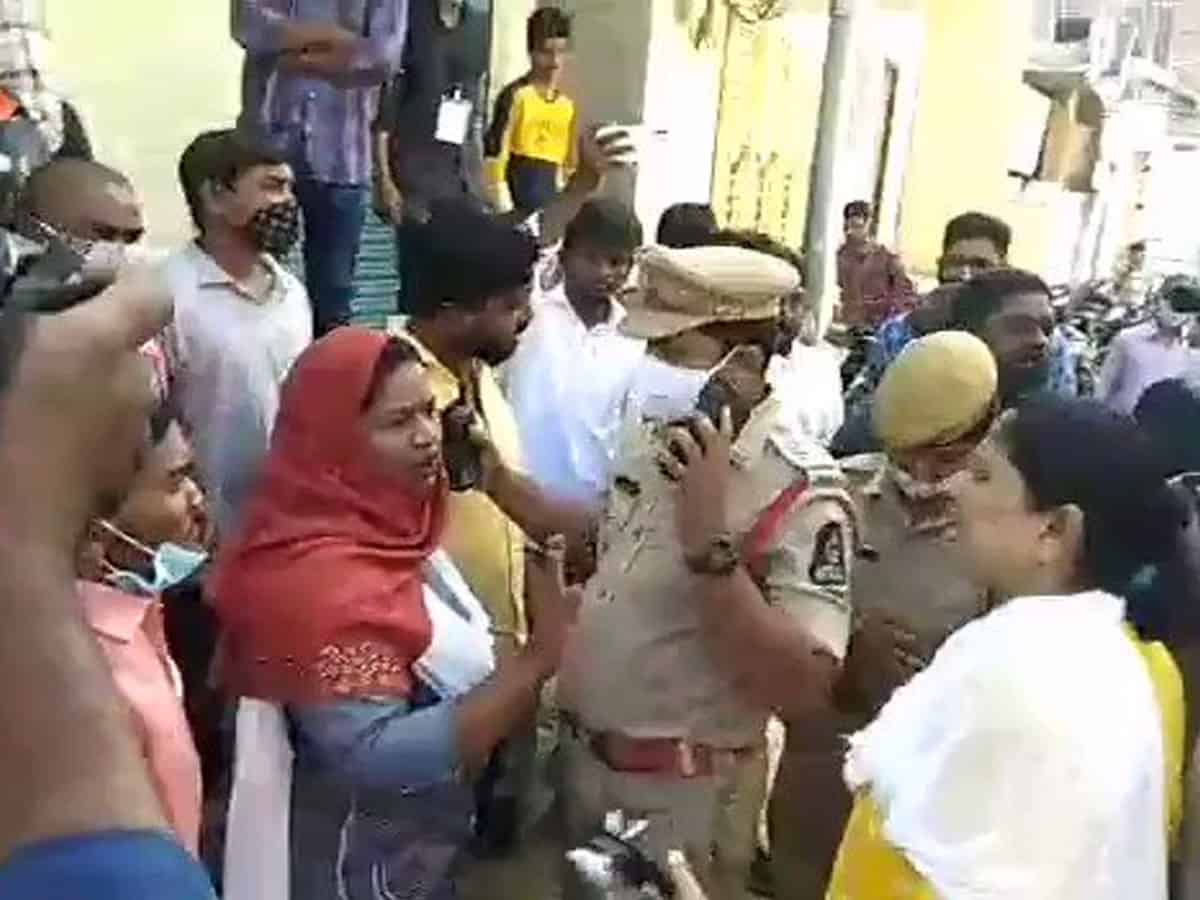 Hyderabad: With the party workers from Bharatiya Janata Party (BJP) and Majlis-e-Ittehadul Muslimeen (MIM) engaging in a brawl at a polling station in Jangammet ward, re-polling will likely be taken up in the ward, officials said. Official confirmation from the State Election Commission (SEC) is awaited.
Party workers heated up the situation after engaging in a war of words. The police personnel, however, brought the situation under control.
If confirmed, re-poll will be held on December 3, as announced by the election commissioner.
Twenty candidates are vying for victory from ward no. 45 Jangammet in Chandrayangutta circle, which is highest among the 150 words of the Greater Hyderabad Municipal Corporation (GHMC).
Polling underway in Old City
Polling booths in different parts of Old City looked deserted and the polling percentage remained low. While some areas witnessed meager turnout others like Charminar Zone witnessed the lowest turnout with 2.5 per cent said Assistant Election Authority and Deputy Commissioner of Charminar Zone today.
 
According to the officials in Charminar South Zone old city till 10:54 am including Circle 6— 3.27 %, Circle 7—0.96%, Circle 8—0.7%, Circle 9—3. 53%, Circle 10—5.56% and Circle 11—3.11%.
According to Aistant Election Authority and Deputy Commissioner of GHMC the poll percentage on December 1 in Falaknuma division cricle number 10-15.41 per cent of polled votes were done at 1 PM.
This division includes in Nawab Saheb Kunta, Doohdh Bowli, Jahanuma, Ramnastpura and Kishan Bagh, a total of 129569 of male voters and 122306 of female voters a total of 251916 voters casted their votes at 1 PM.
In Yakutpura division 15.09 per cent voting has been done till 2 pm. This division wards inlcudes Kurmaguda12.08%, Santoshnagar19%, Talabchanchalam 18%, Rainbazar 17%, IS Sadan 12% and Gowlipura 23%.
Voting per cent in Malakpet division till 3 pm
This division incudes wards are Akberbagh 13.04 per cent
Azampura 14.29 per cent, Chawni 17.89 per cent, Saidabad 13.13 per cent
Moosarambagh 8.04 per cent.
Whereas in Old Malakpet division voting has been stopped by the authorities after in-correct party symbol belonging to the Communist Party of India (CPI) was printed on ballot paper and re-poll is scheduled on December 3, a day before the counting. The entire Hyderabad civic polls counting will be done on December 4.
Subscribe us on