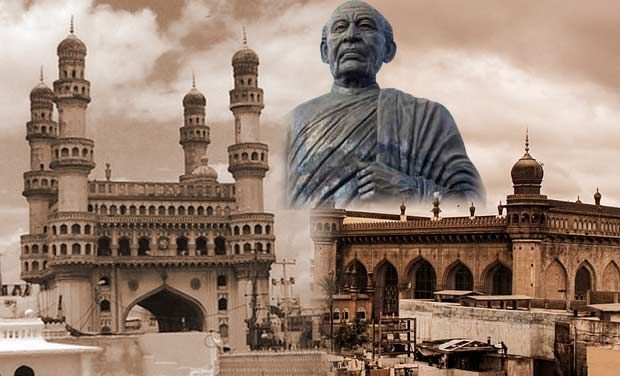 Hyderabad: The Telangana Vimochana Committee  as a prelude to the Telangana Liberation Day being held on September 17 2019 has organized a Round Table on August 28 during which intellectuals , Educationists Teachers lecturers and other stake holders will be participating in the program being held at Press Club Somajiguda.
Addressing a press conference here today Mr. Srivardhan Reddy Telangana Vimochana Committee(Telangana Liberation's Day Committee ) Chairman, Mr. Swamy Goud, Mr. Venkat Naryana Telangana BJP Nalgonda Vimochana committee leader and Mr. Sudhakar Sharma BJP official spokesperson said that the Round Table will be addressed by Dr.Laxman BJP State President Mr. Narasimhan former Bar Council Chairman Mr. N. Ramchander Rao BJP MLC and other senior leaders of the Party .
Stating that the BJP since inception has been demanding various Government's to officially celebrate the Telangana Liberation Day . Mr. Vidyasagar Rao the then BJP leader , Union Home Minister and present Governor of Maharashtra has been celebrating the event along with BJP leaders in a grand manner and had led the agitation seeking to observe the Day officially as Hyderabad was liberated on that day from the Razakars.
Stating that since then the BJP has been fighting with every successive Government's to celebrate the Day officially. They had made a similar appeal to the present Chief Minister KCR who before formation of Telangana had agreed to celebrate the event officially if Telangana became a reality. But after formation of the State under pressure from MIM the Chief Minister failed to keep his promise .
Appealing to the State Government to officially celebrate September 17 Mr. Srivardhan Reddy alleged that the people of the State will not forgive TRS for its biased attitude and appealed to TRS not to give it a religious colour.
This year also the event will be celebrated in a grand manner Union Home Minister Amit Shah will be attending the Liberation Day event on September 17 . However the program details will be discussed in the Round Table he said and added that as Part of the Liberation Day the National flag will be hoisted at every Mandal District and City headquarters.
As part of the Telangana Liberation Day an Exhibition will also be organized at Delhi where the pictures of martyrs and other history details will be displayed
Siasat News
Subscribe us on