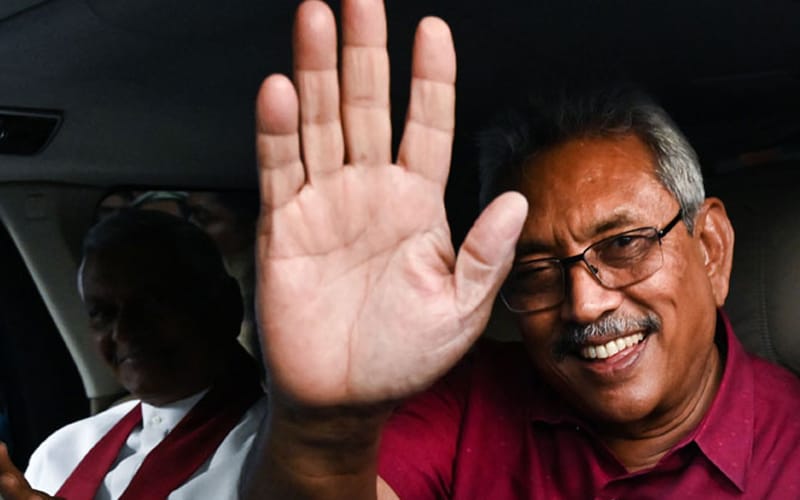 COLOMBUS: Sri Lanka's former wartime defence secretary Gotabaya Rajapaksa has been elected president on Sunday following a fiercely fought election seven months after extremist attack.
The triumph of 70-year-old retired lieutenant colonel, however, alarm Sri Lanka's Tamil and Muslim minorities as well as activists, journalists and possibly some in the international community following the 2005-15 presidency of his older brother Mahinda Rajapaksa.
Muslims fearful
Many in the Muslim community, who make up 10 percent of the population in the Buddhist-majority country of 21.6 million, are also fearful of Gotabaya becoming president, having already witnessed increased hostility since the April attacks, including hundreds of homes and shops being trashed.
Gotabaya nicknamed the "Terminator" by his own family, after claiming victory in the island nation"s eighth Presidential elections, however on Sunday said he is the president of all Sri Lankans.
"I am well aware that I am bound to serve all Sri Lankans despite their racial or religious barriers. I assure that I would conduct accordingly and I thank my citizens for electing me."
Defeated in Tamil & Muslim majority
Heavily defeated in Tamil and Muslim majority Northern and Eastern Provinces, Gotabaya, in a separate Facebook post said:
"Sri Lankans chose hope over fear, unity over conflict, smile over anger. Our vision for a better tomorrow, won the hearts and the minds of the people. From now on, the path to great achievements lies open in front of us and this was our first step together with many other accomplishments to follow. I promise not to stop, until we reach the heights Sri Lankans aspire to."
Vow to crush religious extremism
Gotabaya conducted a nationalist campaign with a promise of security and a vow to crush religious extremism in the Buddhist-majority country following the April 21 suicide bomb attacks blamed on a homegrown jihadi group.
Gotabaya is adored by the Sinhalese majority and the powerful Buddhist clergy for how he and Mahinda ended 37-year civil war in 2009 , when 40,000 Tamil civilians allegedly perished at the hands of the army.
Under his brother, Gotabaya was defence secretary and effectively ran the security forces, allegedly overseeing "death squads" that bumped off rivals, journalists and others. He denies the allegations.
This makes the brothers detested and feared among many Tamils, who make up 15 percent of the population.
Subscribe us on