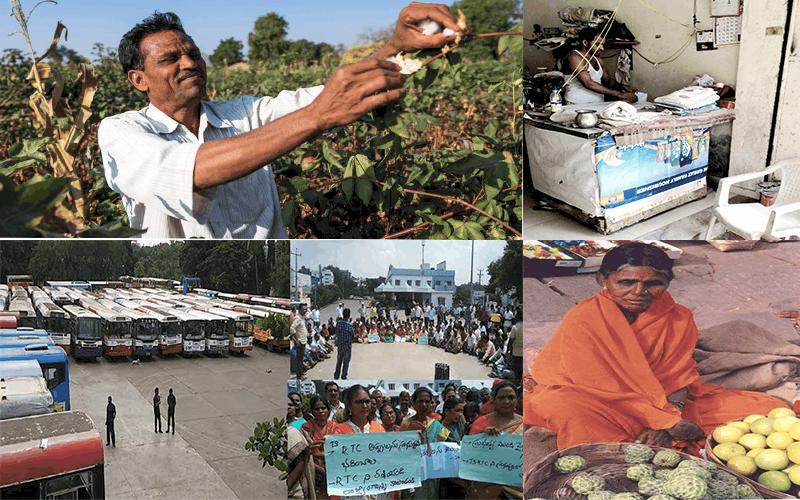 Hyderabad: As the Telangana RTC strike seems to be the longest in the history of the RTC, 48,000 workers of the transport undertaking are going without any salary. In fact, the government did not pay them salary from September.
With no money in hand, RTC workers are taking to the other occupations. Many of them are returning to their caste-based occupation to support the family.
Conductor Ramesh who hails from toddy tapper's community has been collecting toddy and selling it to support the family. A woman conductor was seen selling custard apples at Yadagirigutta bus stand.
Parvatamma alias Malige Anita, attached to Cantonment RTC depot as conductor, got job in 2010. Her husband Balaraju works in a welding shop. They have two sons and a daughter. Because of the strike, Parvatamma did not get her salary for the past two months. Pending resolution of the strike, Parvatamma irons clothes in Choutuppal to support the family practicing her caste-based work.
In Nalgonda district's Halia, a RTC driver engaged himself as a coolie in sweet lemon garden and earning Rs 300 per day for the past 15 days. He was identified as Khammampati Narsimha of Anumula village. Prior to joining as driver at Ibrahimpatnam depot in 2006, he used to work as a casual laborer.
In Devarakonda, Velijala Srinivasulu, a driver with Devarakonda RTC bus depot for the past 10 years, is working as a barber in his brother's saloon practicing caste-based work. He expressed despair that the family is going through financial difficulties as the government held over the salaries. He and many others are not able to buy essentials as his purchasing power has collapsed.
Gosika Kondal Reddy of Vellanki village of Ramannapet mandal was working as conductor with Yadagirigutta bus depot for the past 10 years. Because of the strike, on one hand he takes part in the strike and on the other takes care of harvesting cotton crop in his farm.
Similarly, M Surender of Padmasali colony of Ramannapet has been working as conductor in Yadagirigutta depot. Because of the strike, he is said to be working as a weaver.
Subscribe us on