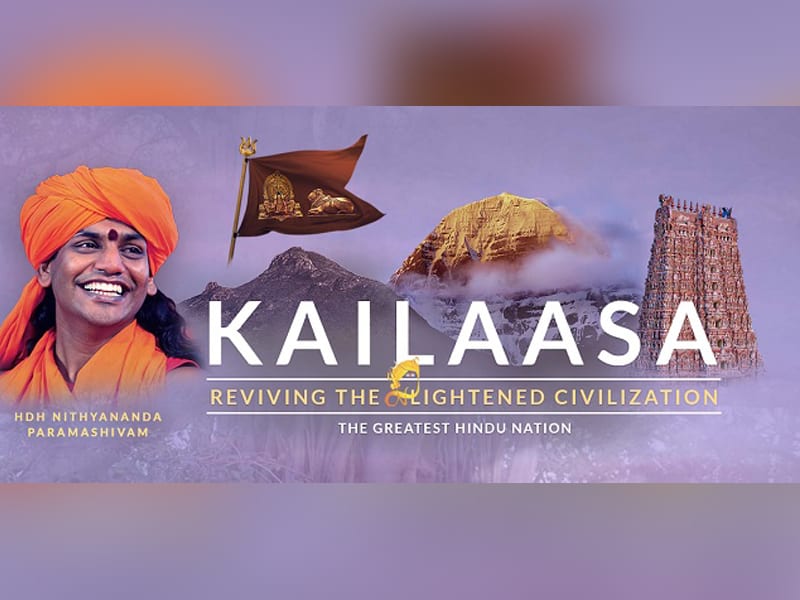 New Delhi: The self-styled godman, Swami Nithyananda who had been away from India after the charges of rape, kidnap were levelled against him.
It has come to be known now that Swami Nithyananda bought an island off the coast of Equador, near Trinidad and Tobago and declared Hindu Nation 'Kailasa'. It has its own flag, official languages English Sanskir and Taimil.
The website of 'Kailasa' depicts that it is a nation without borders created by dispossessed by Hindus from around the world who lost the right to practice Hinduism authentically in their own countries".
The website further declared that 'Kailasa' was created with the determination to not just preserve and protect Sanatana Hindu Dharma and share it with the entire word, but also to share the story of persecution that is yet unknown to the world.
It may be noted that the original childhood name of Nityanand was A. Raja Sekharan. He was born in 1977 at Thirutamilai. He became yogi after staying in various Ashrams. He constructed his 'Math' near Erode in Tamil Nadu. He also made devotes in Australia and America. In Tamil Nadu, he established 15 Ashrams.
Many industrialists donated lands for his Ashrams. With the increase of fame and money, he created many enemies also. One of them installed a secret camera into his bedroom.
In 2010, the video tape of his sexual activates went viral. One of his devotees alleged a rape incident against him.
Subscribe us on