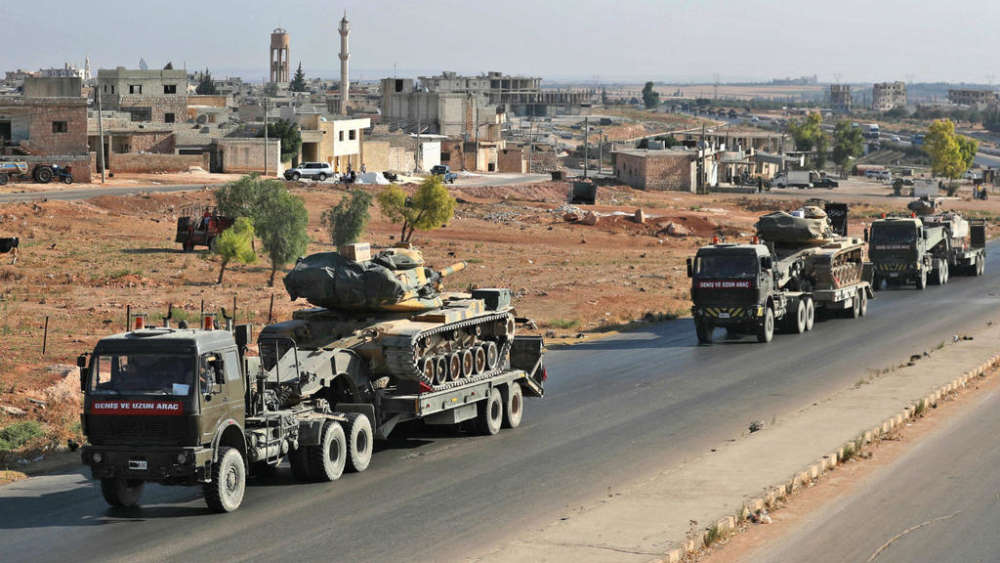 Ever since the 2011 start of Syria's conflict, Turkey has pushed for a buffer zone on their shared border to handle refugees and thwart the emergence of an autonomous Kurdish region.
Here is an overview of plans for a buffer area:
– Humanitarian protection –
In November 2011, just months into Syria's devastating conflict, Turkish Foreign Minister Ahmet Davutoglu moots the creation of a border buffer, with international backing, in case of a massive outflow of refugees into Turkey.
Ankara has adopted a tough line since the conflict started towards Syria, with whom it shares a 900-kilometre (559-mile) border.
The Syrian National Council, the main opposition coalition at the time, had also raised the idea of a no-fly zone or secure area to protect civilians fleeing the regime's crackdown.
– Against the Kurds –
In July 2012, Turkey is furious when the Syrian army withdraws from parts of the north where Kurdish militants — its foes — are deployed.
Recep Tayyip Erdogan, then prime minister, accuses Damascus of having "allotted" these areas to the Kurds, which Turkey fears are seeking autonomy.
It sees Syria's Kurdish forces as a "terrorist" offshoot of the Kurdistan Worker's Party (PKK) which has for decades waged a deadly insurgency in Turkey.
Erdogan says he will consider creating a military buffer zone on the border.
In August 2012, Davutoglu urges the UN Security Council to set up civilian safe-havens inside Syria, saying Ankara is struggling to cope with the thousands of people crossing into Turkey each day.
– Free of 'terrorism' –
Ankara says in October 2014 that a buffer is needed to defeat IS jihadists as well as for humanitarian reasons.  
In February 2017, Erdogan says the aim is to establish an area of at least 4,000 square kilometres (1,500 square miles) "free from terrorism".
– US-Turkey agreement –
Trump's shock December 2018 announcement that the bulk of US troops will be withdrawn from Syria is welcomed by Turkey.
But the two quickly fall into a row over the future of Kurdish forces, a key US ally in the fight against IS.
In January 2019, US President Donald Trump for the first time suggests a safe zone along the border, Turkey quickly affirming it will be able to handle this alone.
In late July, US and Turkish officials open negotiations to hammer out details of a safe zone.
– Turkish threaten new operation –
Considering the US proposals would not keep the Kurdish group far enough away from Turkey's border, Erdogan on August 6 threatens "very soon" an operation to "eliminate" the US-backed Kurdish People's Protection Units (YPG).
The following day, both sides announce they have agreed to a "joint operations centre" to work on creating the safe zone in northern Syria.
A delegation from Washington, which is seeking to avoid a new Turkish military operation against the Kurdish militia, arrives on August 12 in Turkey to work on opening the centre.
– Start of Kurdish withdrawal –
On August 24, Syria's Kurds say they will support the implementation of a buffer zone in their areas along the border.
Turkey says the operations centre is working at "full capacity".
On August 27, the Kurdish authorities in northeast Syria say their forces have started to withdraw from outposts along the Turkish border.
Source:
Agence France-Presse
Subscribe us on