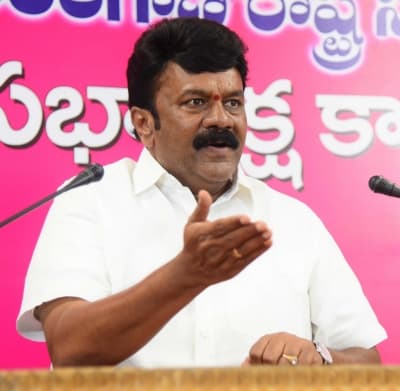 Hyderabad, Sep 17 : Accepting the challenge thrown at the ruling Telangana Rashtra Samithi (TRS) government regarding its 2BHK housing scheme, TRS leader and Animal Husbandry Minister T. Srinivas Yadav on Thursday reached the residence of Congress leader Mallu Bhatti Vikramarka and offered to show him the houses built in Hyderabad under the state government's 2BHK (double bedroom) housing scheme for the poor.
The TRS Minister took Vikramarka and other Congress leaders to different places in the city and showed them the houses constructed under the scheme.
During a debate on the housing scheme in the Legislative Assembly on Wednesday, there was a heated exchange between the Congress leader and the TRS Minister.
Disputing the state government's claim that one lakh double bedroom houses were built in Hyderabad, Congress leader Vikramarka had challenged Srinivas Yadav to show them. The TRS Minister readily accepted the challenge.
While not many had believed that Yadav would walk the talk, but he reached the Congress Minister's house at Banjara Hills on Wednesday morning.
Greater Hyderabad Mayor B. Rammohan and some Congress leaders who had reached there also accompanied the two during the visit to Ziaguda, Ghode Ki Khabar, Indira Gandhi Colony and other places where houses were constructed under the scheme.
Srinivas Yadav said he could take the Congress leader to only a few places but was ready to show him all the one lakh houses.
Disclaimer: This story is auto-generated from IANS service.
Subscribe us on