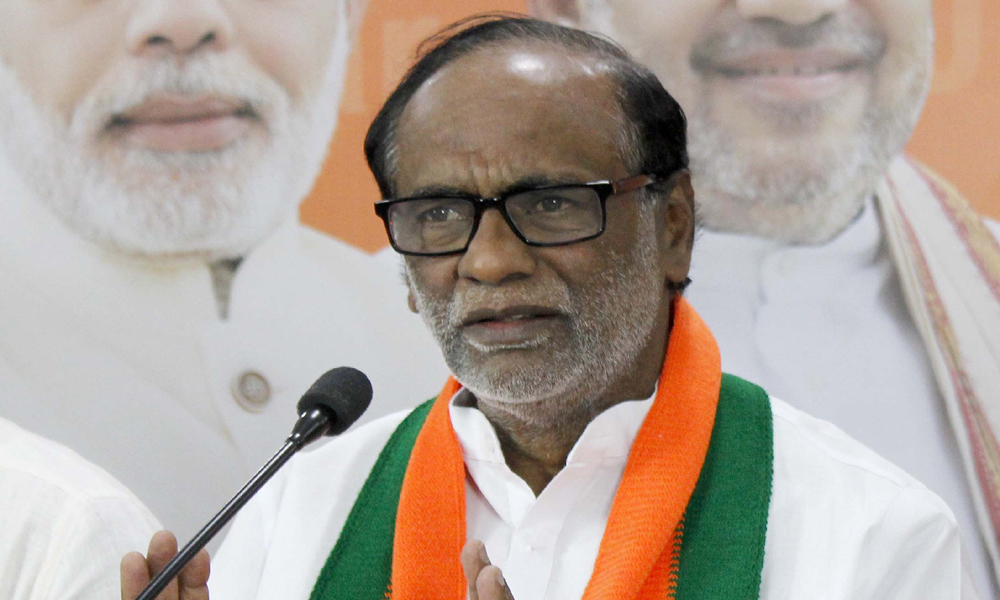 Hyderabad: Telangana BJP leaders cancel press meets and chose to  reserve their comments on the abrogation of Article 370 and 35 A which granted special status  to Jammu and Kashmir till further orders from the Central Party  

The Telangana BJP was euphoric like any other States. The Party President Dr. Laxman  had called for a press meeting at 4 in the evening to celebrate the historic decision by the BJP Government at Centre. However following the advisory from its Central Party leadership the  State Party President Dr. Laxman cancelled the meet since the matter was under discussion in the Parliament  .
Barring television debates the Leaders of the BJP did not comment on the issue and have reserved their comments till the Central Party Leadership gives them the "go" .
It maybe recalled that it was a momentous day for the BJP as it had achieved one of its electoral promises made since 1982 .Following the promise Union home minister Amit Shah on Monday moved a resolution in the Rajya Sabha to abrogate Article 370 of the Constitution that grants special status to Jammu and Kashmir.
The government, which listed four bills and legislative proposals before the Rajya Sabha, intends to get the resolution passed by the end of the day. As Shah read out the details of the proposal, opposition leaders shouted slogans against the government. Several national level leaders termed it from 'glorious day' to catastrophic consequences on the Article 370 . The BJP were euphoric and termed it historic while the Opposition warned of catastrophic consequences .
What a glorious day. Finally d martyrdom of thousands starting with Dr Shyam Prasad Mukharjee for compete integration of J&K into Indian Union is being honoured and d seven decade old demand of d entire nation being realised in front of our eyes; in our life time.Ever imagined? (sic)," Madhav tweeted.
DV Sadananda Gowda: "Article 370 abolished. The moment I lived for #BharatEkHai," Union minister Sadananda Gowda wrote on Twitter.
Baijayant Jay Panda: "Congratulations @narendramodiji & @AmitShah Ji on historic decision to revoke #Art370 It was long overdue. J&K acceded to India by the same rules as other states. Yet decades were wasted, tens of thousands killed, & lakhs displaced. Because of naiveté, rather than realpolitik.." BJP leader Baijayant Jay Panda posted on Twitter.
Mehbooba Mufti: "Today marks the darkest day in Indian democracy. Decision of J&K leadership to reject 2 nation theory in 1947 & align with India has backfired. Unilateral decision of GOI to scrap Article 370 is illegal & unconstitutional which will make India an occupational force in J&K," PDP's leader Mehbooba Mufti wrote.
"It will have catastrophic consequences for the subcontinent. GOIs intentions are clear. They want the territory of J&K by terrorising it's people. India has failed Kashmir in keeping its promises (sic)," she also said.
Siasat News
Subscribe us on