Hyderabad: Sparsh Hospice, 8 years old, Telugu States first Palliative Care Center and Hospice observed and celebrated World Hospice & Palliative Care Day today at its premises in Road Bo 12, Banjara Hills.
Heath Minister Etela Rajender, MP Chevalla Dr Ranjit Reddy graced the celebrations.
It was the day for us to acknowledge our donors and volunteers who have given their resources and time generously for the cause, informed Mr Rammohan Rao, CEO of Sparsh Hospice.
Sparsh Hospice is a Palliative Care Center, which is an initiative of Rotary Club of Banjara Hills Charitable Trust. Palliative Care is the care given to terminally ill patients.  Sparsh Hospice is a 12 bedded facility
The Minister also inaugurated "Neki Ka Pitara", a kiosk which provides refreshments free of cost to hospitals and hospices.
Addressing the 200 plus gathering of patients, their attendants, the staff of Sparsh Hospice, donors, Rotarians, Health Minister expressing his dismay that despite of the best technological advance still 70% of cancer cases are detected in the last stages. Early detection is very important and he advocated experts to integrate advanced technology with the diagnosis process to start the treatment in early stages of cancer.
Telangana Government has brought Liver, Heart, Kidney and other transplants under the ambit of Aarogya Sri and bearing huge costs and Telangana is the only state to extend such support.
Poor or rich, once get cancer, everybody has to go through the same process. Centre's like Sparsh helps to reduce the suffering and make death more dignified as birth.
I told Union Government at just concluded State Health Ministers Meet to add some good features of Aarogya Sri in Ayushmanbhava Scheme announced by the Central Government.
Every health care professional must strive hard to prevent the disease rather than addressing it after it happens.
Dr G Ranjit Reddy, MP, Chevalla said Palliative Care is not just the responsibility of Sparsh Hospice, but it is also the response of citizens. We need more caregivers. I appreciate, applaud, bow my head in front of the staff of Sparsh Hospice for their yeoman service. Service to humanity is the real service to the god. Every born soul must go one day, but that departure must be dignified one, he said.  
Dr Rohini of Sparsh who briefed gathering about the importance of Palliative Care appealed to Mr Etela Rajender to bring Palliative Care under the preview of Aarogya Sree. Further to create more awareness about Palliative Care as specialized service and its availability, she sought Health Minister help in getting a desk space to run help desks at all government hospitals to create awareness.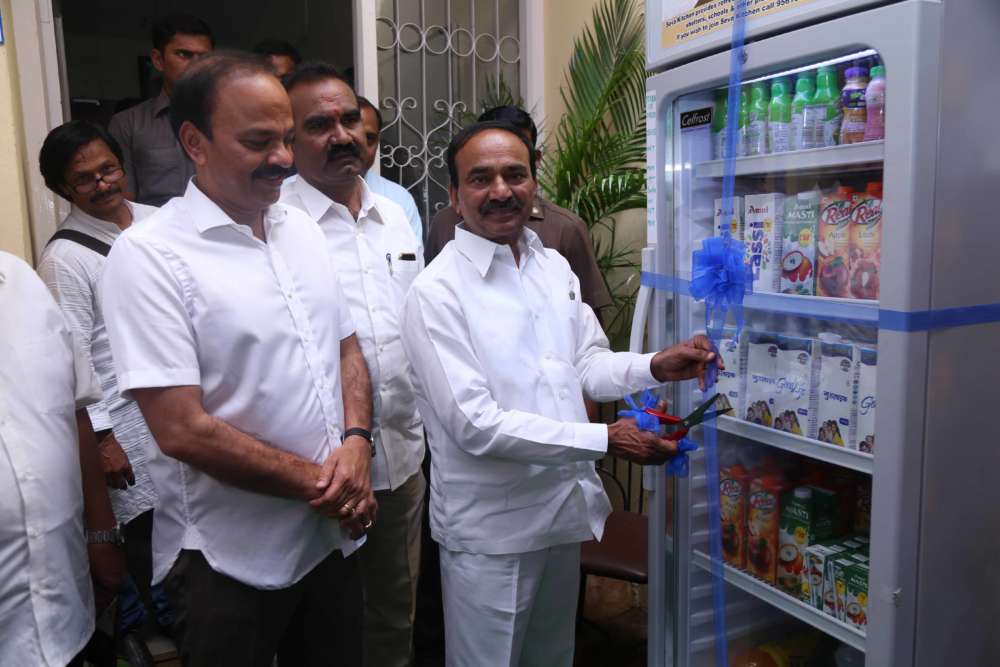 Even a medical graduate who comes out of medical colleges needs to learn more about Palliative Care. She wanted a small subject on the same must be included in the curriculum of MBBS.
Mr Manohar Reddy, President of Rotary Club of Banjara Hills which established Sparsh Hospice, the first such Facility in Telugu states in 2011 said, in its 8 years journey, the 12 bedded Facility served 3000 patients and helped them leave this world with less pain and in a more dignified manner. Besides inpatient service, we provide home care too. And many are served at their respective homes he added.
Sparsh Hospice spends Rs 12 lakh every month to run this facility. Thanks to KTR and Telangana Government who gave one-acre land for a new building at Khajaguda, Sparsh is constructing 70 bedded Facility which will be ready for inauguration in May 2020. Phoenix is constructing the building free of cost. Once this facility becomes functional, we need Rs 30 lakhs every month to offer free services, he shared.
BHEL donated Rs 5 lakhs, Banerjee of CES Ltd presented a cheque of Rs 1 lakh and an NRI Sanjoy Khundrey from Houston/ USA donated the US $ 50,000. The cheque was handed over by his father Ramchandram.
World Hospice and Palliative Care Day is a unified day of action to celebrate and support hospice and palliative care around the world. World Hospice and Palliative Care Day take place on the second Saturday of October every year. And it is observed all over the world.  The theme for this year is My Care My Right– aims to communicate that palliative care can be demanded by the public – and that, together, every person impacted by a life-limiting illness can influence their policymakers to prioritize palliative care financing under Universal Health Coverage.
Palliative care is specialized medical care for people with serious illness. It is the care extended to the terminally ill cancer patients.  Once the cancer is termed as 'Terminal' it means that the life of that patient will end soon and no curative treatment is possible. Hence in this stage, it is deemed fit to concentrate on improving the quality of life and lessening the suffering rather than trying to prolong life with toxic treatments. This is the concept of 'palliative care'. A hospice is a place where patients with terminal illnesses are provided with palliative care.
Subscribe us on