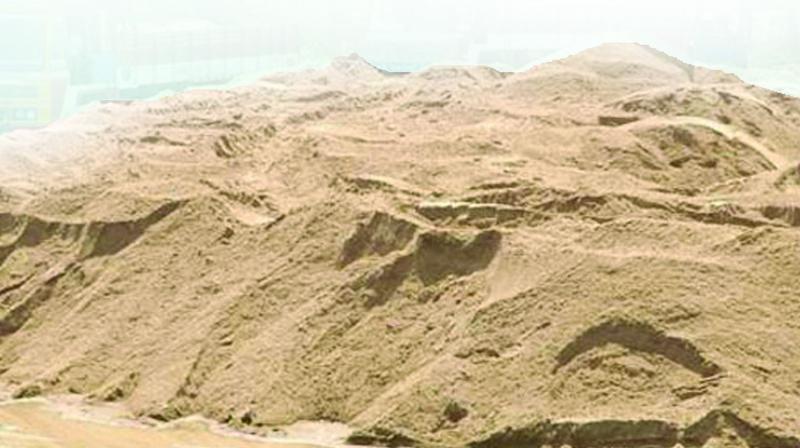 Amaravati: With sand shortage hitting the construction industry in Andhra Pradesh and causing distress among workers, the state government on Wednesday announced that those hoarding sand will face two-year imprisonment.
The decision was taken at the state cabinet meeting presided over by Chief Minister Y. S. Jagan Mohan Reddy.
Information Minister Perni Venkataramaiah told reporters after the cabinet meeting that a fine of Rs 2 lakh would also be imposed on sand hoarders.
It was also decided to observe Sand Week from November 14 to improve the availability of sand. Two lakh tonnes of sand will be made available every day, he said.
The decision came amid crisis in the construction industry due to sand shortage. The opposition parties have alleged that about 35 workers have committed suicide as they could not get work. The government, however, termed this as a false propaganda by the opposition.
YSR Congress Party (YSRCP) government attributed the sand shortage to recent floods and announced several measures to curb hoarding and illegal transport of the sand.
Meanwhile, leader of opposition and Telugu Desam Party (TDP) president N. Chandrababu Naidu will be undertaking day-long fast in Vijayawada on Thursday.
During a tele-conference with TDP leaders on Wednesday, Naidu said his fast was aimed at creating confidence among construction workers. He alleged that the sand shortage was created by YSRCP leaders who formed a mafia to loot the sand.
Naidu demanded that the government provide free sand across the state. He also demanded Rs 25 lakh compensation each to the families of the workers who committed suicide and monthly financial assistance of Rs 10,000 to workers who were not getting work.
Naidu's fast would be the second major protest by the opposition parties over sand shortage. Earlier, Jana Sena leader Pawan Kalyan had conducted a massive long march in Visakhapatnam over the same issue.
Subscribe us on