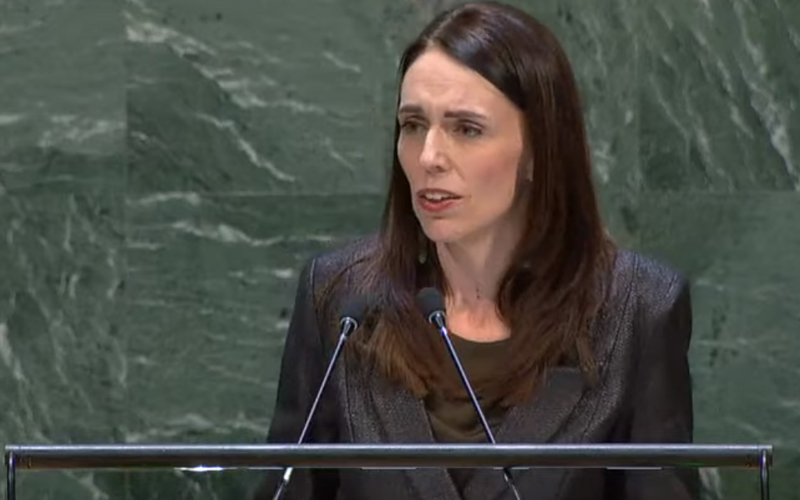 New Zealand Prime Minister Jacinda Ardern on Tuesday said the Muslim community in New Zealand, especially in the wake of the Christchurch terrorist attack.
Ardern's remarks came in the wake of 15 March's Christchurch mosque shootings in her country which killed 51 people.
Kiwi Muslims 'forgiveness & aroha' 
Addressing an event to commemorate the 150th birth anniversary of the Mahatma at the UN Economic and Social Council (ECOSOC), Ms Ardern said that New Zealand has recently witnessed a tragic consequence of intolerance and violence, and added, "I saw terrorism sought to divide us and took the lives of 51 innocent worshippers."
"Yet in the face of this act of hatred and violence, the New Zealand Muslim community opened their doors for all New Zealanders and the world to grieve with them," she said.
"Their act of peace was a powerful and empowering one. In opening their doors they sowed the seeds of diversity, humanity, forgiveness and aroha. They broke a potential cycle of violence."
Gandhi's unifying power
Ardern also said that Gandhi had mulled the expression of political dissent through non-violent opposition. "It is critical to resolving tensions in a peaceful manner. I believe that Gandhi's legacy as relevant as it was before. It calls on us to reject bigotry and embrace kindness and truth," she told the attendees.
In her concluding remarks, she said, "We look forward to Gandhi's principles to address the pressing problems. There are three aspects of Gandhi message that carry particular weight: tolerance, equality and tantity of non-violence and peace."
"These are values that we should always keep in the forefronts of our minds not just in good times but especially when faced with difficult choices," she noted further.
World leaders including Bangladesh Prime Minister Sheikh Hasina, Singapore Prime Minister Lee Hsien Loong and South Korean President Moon-Jae-in were also present at the occasion in New York.
Subscribe us on