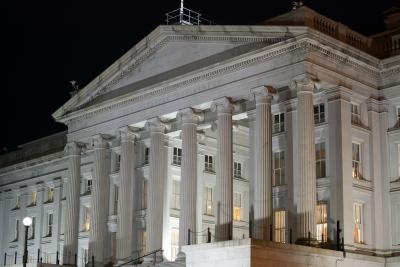 Washington, Sep 18 : The US government has announced sanctions against a Lebanese individual and two companies for their alleged ties with the Beirut-based Hezbollah group.
The Treasury Department said in a statement on Thursday that the two companies, Arch Consulting and Meamar Construction, were blacklisted "for being owned, controlled, or directed" by Hezbollah, reports Xinhua news agency.
Lebanese Sultan Khalifah As'ad was also designated, who the Treasury said is a Hezbollah Executive Council official closely associated with both companies.
"Through Hezbollah's exploitation of the Lebanese economy and manipulation of corrupt Lebanese officials, companies associated with the terrorist organization are awarded government contracts," Treasury Secretary Steven Mnuchin said in the statement.
The State Department designated Hezbollah, backed by the Islamic Shia community, as a Foreign Terrorist Organization in 1997.
According to the statement, all property and interests of the property of the designated entities and the individual in the US have been blocked, and Americans are generally prohibited from engaging in any transactions with them.
Last week, the US sanctioned two former Lebanese ministers, accusing them of supporting Hezbollah.
Established in 1982 during Lebanon's civil war, Hezbollah is now a major political party in the country.
It fought a war with Israel in 2006.
Disclaimer: This story is auto-generated from IANS service.
Subscribe us on