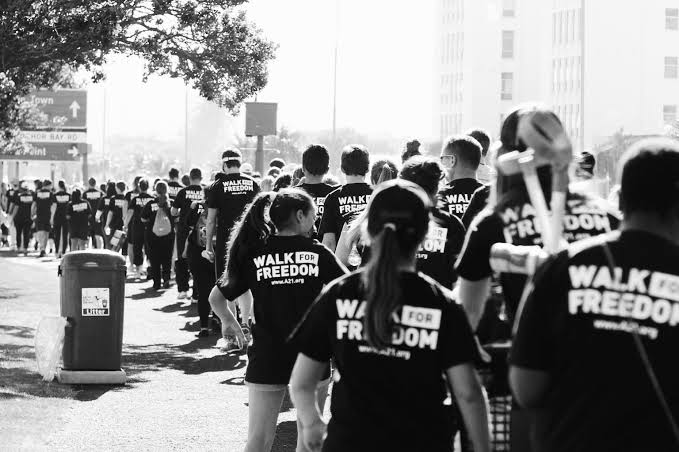 Hyderabad: The Walk for Freedom, the world's largest event to raise awareness against human trafficking, to be held simultaneously at 450 locations across 50 countries, will be held in Hyderabad in October with volunteers teaming from different walks along with TS police women's wing.
The Walk for Freedom is organised by The Movement India, a volunteer mobilization platform based in Mumbai comes to India on October 19 for the third year in a row. This, however, is the first time that Hyderabad is participating in the global event.
Over 2,500 participants have signed up for the event from 10 Indian cities of Hyderabad, Mumbai, Pune, Delhi, Kolkata, Shillong, Chennai, Kochi, Bengaluru and Panjim. The event will see a silent walk by participants who have pledged to help end human trafficking in their lifetime, and walk in a single file at a public place holding placards about the reality of human trafficking that raises awareness among the public. Globally, the Walk is organised by A21, an international NGO working to fight modern-day slavery.
The walk will take place on Saturday morning, October 19, in the city as well as nine other cities across India to raise awareness about human trafficking. It will start from and
return to YMCA Secunderabad via SD Road and Sangeet Lane.
"We will be glad to have our women police staff on board and speak and address the attendees about the fight against human trafficking and how an alert citizen can help the police in preventing such crimes".

B Sumathi, SP CID women cell of Telangana
In the lead up to the Walk, The Movement India has conducted over 40 awareness workshops about human trafficking, reaching over 4,000 participants across India in the last month and a half.
"There are millions of slaves in the world, but there are billions of us who can bring change. Not all of us can do everything, but each of us can choose to do something,"

Christine Caine, founder of A21
According to a report by the International Labour Organisation, 40.3 million were caught for indulging in various forms of modern-day slavery globally in 2016. Of these, right now there are 8 million people trafficked in India for sex, labour, organs, forced marriages and domestic servitude, said Global Slavery Index.
Mohammed Hussain
mohammedhussain.reporter@gmail.com
Subscribe us on