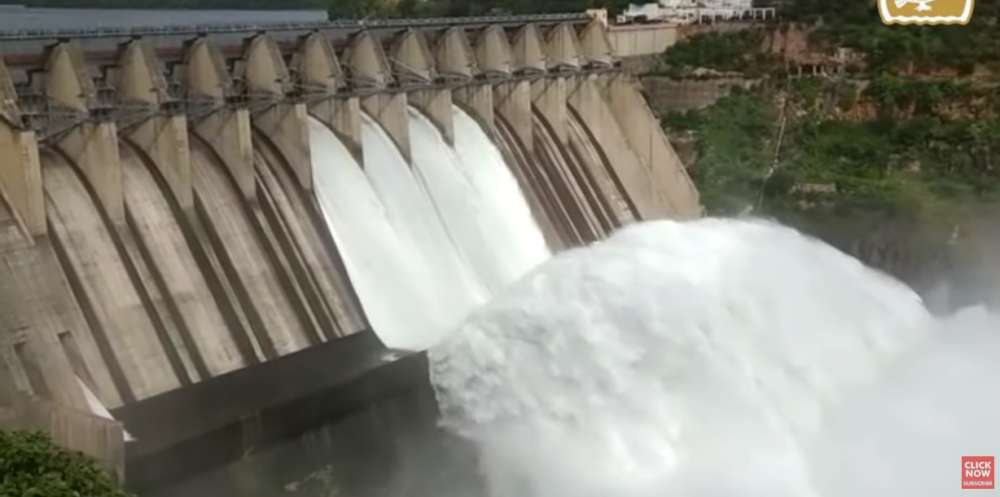 Mahabubnagar: Telangana Ministers S. Niranjan Reddy and Srinivas Goud and MP Ramulu on Friday evening formally released water from the Srisailam project by lifting four of the spillway gates at Edamagattu area. The government took the decision considering the heavy discharges maintained by upstream projects on the Krishna River.
The Telangana state-level committee on Integrated Water Management gave the nod for finalizing the irrigation schedule for the Nagarjuna sagar project, after which the spillway gates were lifted. The discharges from the Alamatti project and the Narayanpur dam in Karnataka are in the range of 3.55 lakh and 4.15 lakh cusecs respectively.
The Jurala project in Mahabubnagar district is maintaining an outflow of 3.74 lakh cusecs. The Srisailam project, with gross storage of 172 TMC as on Friday evening against its gross storage capacity of 215 TMC, received good inflows during the day. It was maintaining a discharge of over 70 thousand cusecs for power generation, while 25 thousand cusecs were discharged for meeting irrigation needs. While releasing the water, the Agriculture Minister said that the state had received good rains this year and the agriculture sector would succeed in increasing productivity. MLAs Guvvala Balaraju, Ala Venkateshwar Reddy, Marri Janardhan Reddy and Jalipal Yadav were also present on the occasion.
Subscribe us on