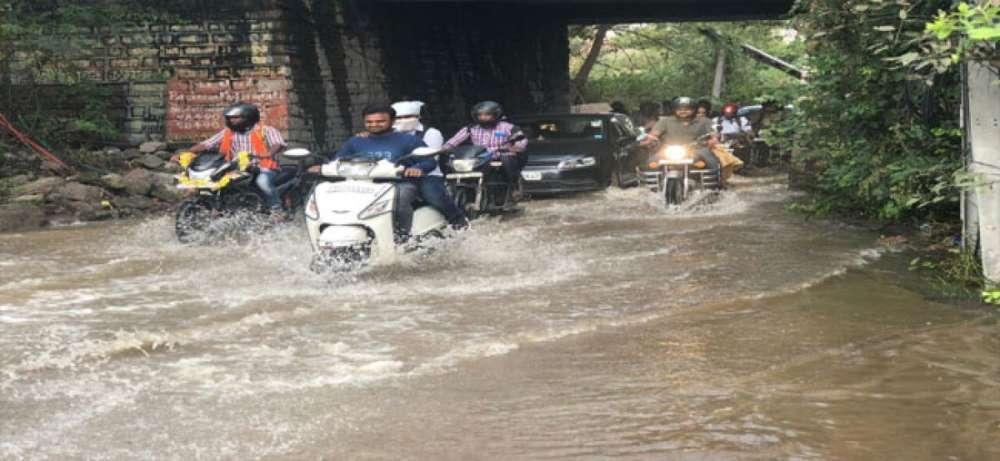 Hyderabad: Showers in the city for the past four days have dampened the spirit of people who had to mostly remain confined to homes during the weekend.
HYDERABAD WEATHER
Forecast: Scattered Thunderstorms
Temp: 28/23
Sunrise: 05.56
Sunset: 06.47
Current Weather Conditions
Updated August 4, 2019 5:00 PM
The disappointments were many. Several who ordered food online got 'out of order' messages from the food delivery apps. Worse, customer care call centres could not even be reached on phone for clarifications. Almost all apps were down, and could not receive food orders. Push cart and other vendors of food were also not seen on roads on account of the gloomy weather.
For many IT employees,
Saturday was holiday, while
government employees applied
for leave on the day on account
of the drizzle.
Daily wage earners too did not evince interest to wait for work at the designated labour hubs. Food delivery boys and OLA and Uber cabs mostly remained off road. But for some cab drivers, bad weather and rains was time to make an extra buck with 'surge in demand' alibi. The usual fare for travel from Jubilee Hills checkpost to Kondapur is between Rs 250 and Rs 350, but cabs charged as much as Rs 550 and Rs 650. Some drivers collected a hefty Rs 1,000 for a 15-km distance.
At the same time, there were just no cabs at all at some places. App-based cab services did not respond even half an hour after booking from busy areas like Tank Bund, Banjara Hills, Masab Tank and Himayat Nagar localities causing immense inconvenience to customers. Even motorcycle taxi drivers took a day off citing inclement weather over the weekend.
Authored by Mohammed Hussain
mohammedhussain.reporter@gmail.com
Subscribe us on