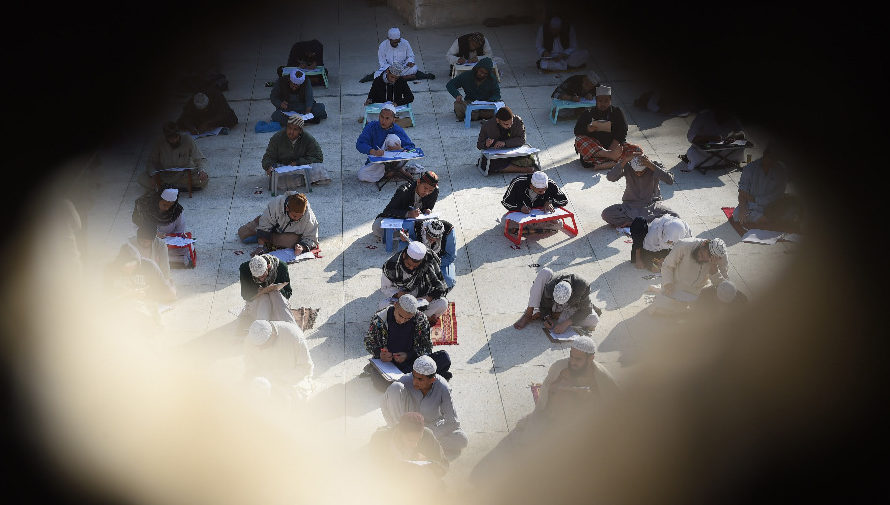 [highlight_text]The Yogi Adityanath government of Uttar Pradesh has mooted a proposal to do away with the mandatory clause stating that knowledge of Urdu was needed for recruitment of teachers in state-run Madrasas.[/highlight_text] It must be noted that earlier, knowledge of Urdu was a must for the appointment of teachers in Madrasas.
According to the National Herald, a senior official told that it is not mandatory for madrasa teachers to know Urdu now. He added that the Government has proposed a plan to do away with the condition of proficiency in Urdu language for the appointment of teachers in madrasa.
The move has triggered opposition from all quarters. The Muslim clerics term it as an attempt by the Yogi government to saffronise Madrasa education. National Herald quoted Maulana Bashir Tauqi as saying, "Can you ever think of a teacher in Madarsa who cannot read or write Urdu? From Primary to Fazil (post-graduation) students in Madrasas use Urdu as a language of communication. How can one subjugate Urdu now?" he asked.
According to the government official, the matter was under consideration by the state government for quite some time. The blueprint of the project is ready and the Minority welfare department has been asked to prepare a cabinet note and the same has been sent to the government for further action.
Though as of now, the appointment of teachers will be limited for the appointment of teachers of science and mathematics as per the proposal, later on this can be extended. In support of its move, the Government argued that many posts of science and mathematics teachers were lying vacant because of the mandatory clause of Urdu as there were not enough applicants who were well conversant with Urdu. Mohsin Raza, Minister of State of Minority Welfare said they were forced to take this decision which is in favour of students.
However, the clerics have to say that government is pressurizing madrasas because of the grants it gives to them. They also allege that it is the second attempt by Yogi Government to cut madrasas to size. It must be recalled that in 2018 the BJP government had launched a portal for the mandatory registration of approximately 19,000 madrasas across the state.
Subscribe us on