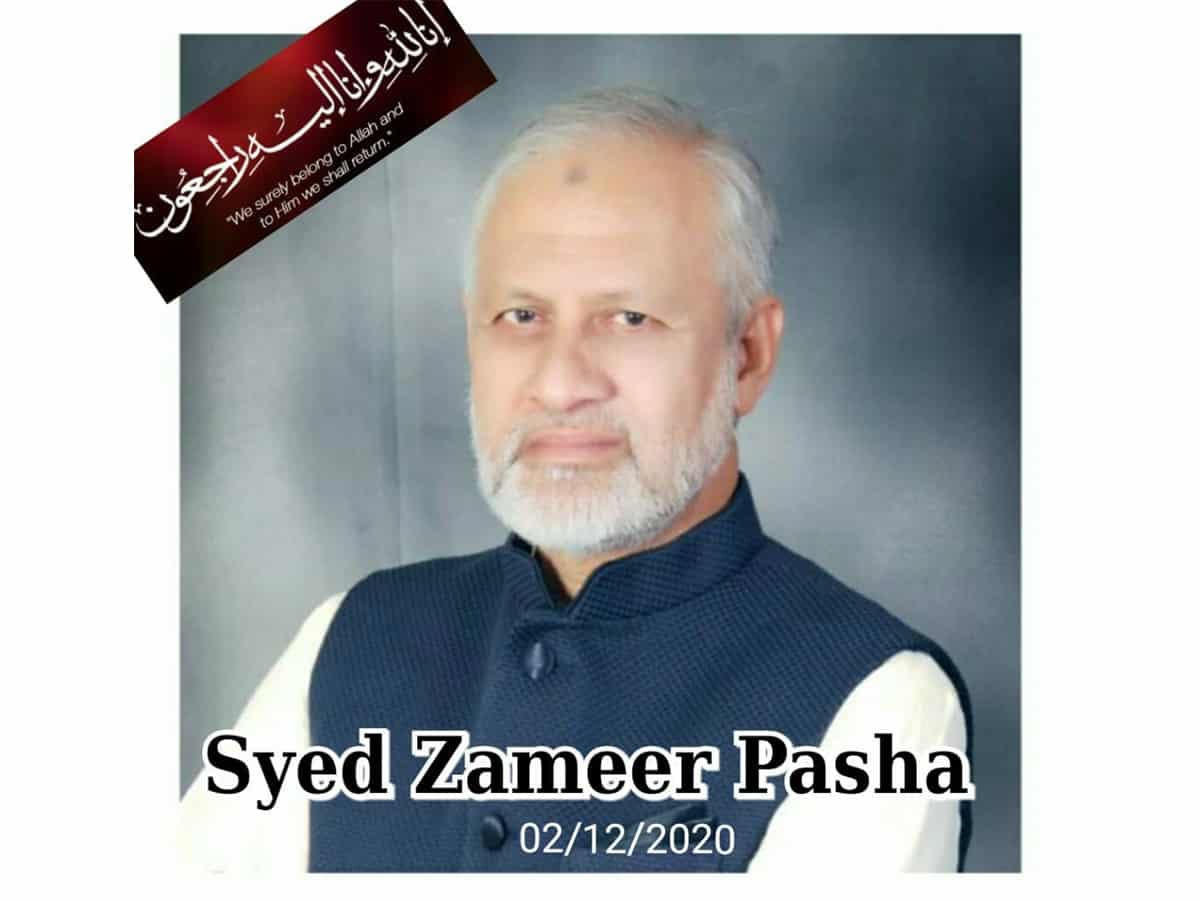 Bengaluru: Former IAS officer Syed Zameer Pasha died in Bengaluru late in the evening on Wednesday (December 2) after ailing for some time. He was 68.
He had retired as Secretary of the Department of Public Administration and Reforms (DPAR) and had simultaneously held the post of the Secretary of the Department of Minority Affairs in Government of Karnataka.
A social worker, an educational activist and of late an office-bearer in the Karnataka Pradesh Congress Committee (KPCC), Pasha had unsuccessfully fought Assembly election in 2018 for the Kolar seat, 70 kms east of Bengaluru. He was one among the first batch of degree awardees in 1970 from the Bengaluru's Al-Ameen College of Arts, Science and Commerce set up by leaders like Mumtaz Ahmed Khan, Rahman Khan and Begum Abbasiya Mecci. He later took LLB and LLM degrees and appeared for the Karnataka Civil Services examination and became a Karnataka Administrative Services (KAS) officer. He was conferred IAS ten years before retirement on the basis of seniority.
Following retirement he joined the Congress Party and was appointed one of the vice presidents of the party. He even began to practice as a lawyer.
Pasha was born in Magadi, a small town in the backyard of Metropolitan Bengaluru and was engaged in educational upliftment of the townsfolk. Being one among the early students of Al-Ameen, he was inspired by the Al-Ameen movement and Dr. Mumtaz Ahmed Khan. Soon after leaving the college he founded Al-Falah Educational Trust in Magadi town which currently runs an English medium school (Winner's International Academy), an upper primary school (Jawahar English School); Al-Falah PU College and a theological school (Taalimaat-e-Aamma Muhammadiya). During his tenure with the government, he handed over the management of the institutions to a group of Turkish students for a few years residing in India which vastly improved its infrastructure and academic standards. Several students of the school and the town have been taken on educational trip to Turkey during the recent years.
He began to interact with the community in Kolar while he was Deputy Commissioner (DC) of Kolar district during 1999-2001 and maintained regular contact thereafter advising the activists and organizations in the town.
He was under treatment for pancreatic cancer for the last four months. He leaves behind his wife and two daughters and a son. He was laid to rest this (Thursday) morning in Shantinagar graveyard.
Known for his sincere social work, his death will be mourned by the community in Bangalore.
M A Siraj is senior journalist based in Bengaluru. He writes for several publications in the country.
Subscribe us on