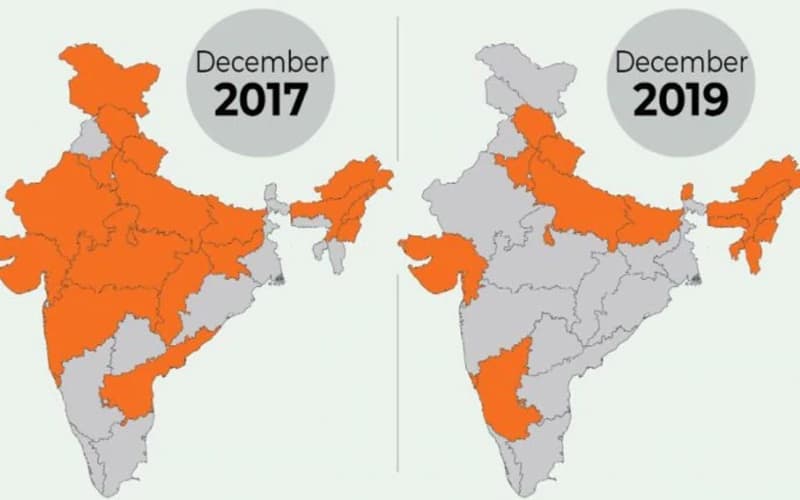 NEW DELHI: The Congress and its allies have gained a majority in Jharkhand Assembly Elections. It will be the 5th State for BJP to lose elections in the last two years.
The downward spiral for the BJP began last year after four key states slip away from its kitty.
The alliance of JMM, Congress, and RJD appears poised to form government in Jharkhand with the three parties slated to cross the majority mark of 41 in the state assembly
Jharkhand will be added to the list of Maharashtra, Chhattisgarh, Rajasthan, Madhya Pradesh — where BJP lost power in past 12 months.
After 15 years of rule, BJP lost power to the BSP-Janta Congress Chhattisgarh alliance of former Chief Minister Ajit Jogi in December 2018.
While the BJP lost Maharashtra in the recently held election, it barely managed to save Haryana from slipping away after Dushyant Chautala and Independents came to its rescue.
In October this year, BJP lost its command over Maharashtra, home to its Hindutva ideologue RSS after its pre-poll ally Shiv Sena led by Uddhav Thackeray form a government in coalition with Nationalist Congress Party-Congress's Maha Vikas Aghadi.
The BJP was not only fighting five years of anti-incumbency in the state but also battling with growing disenchantment with its chief ministerial face Raghubar Das.
Subscribe us on