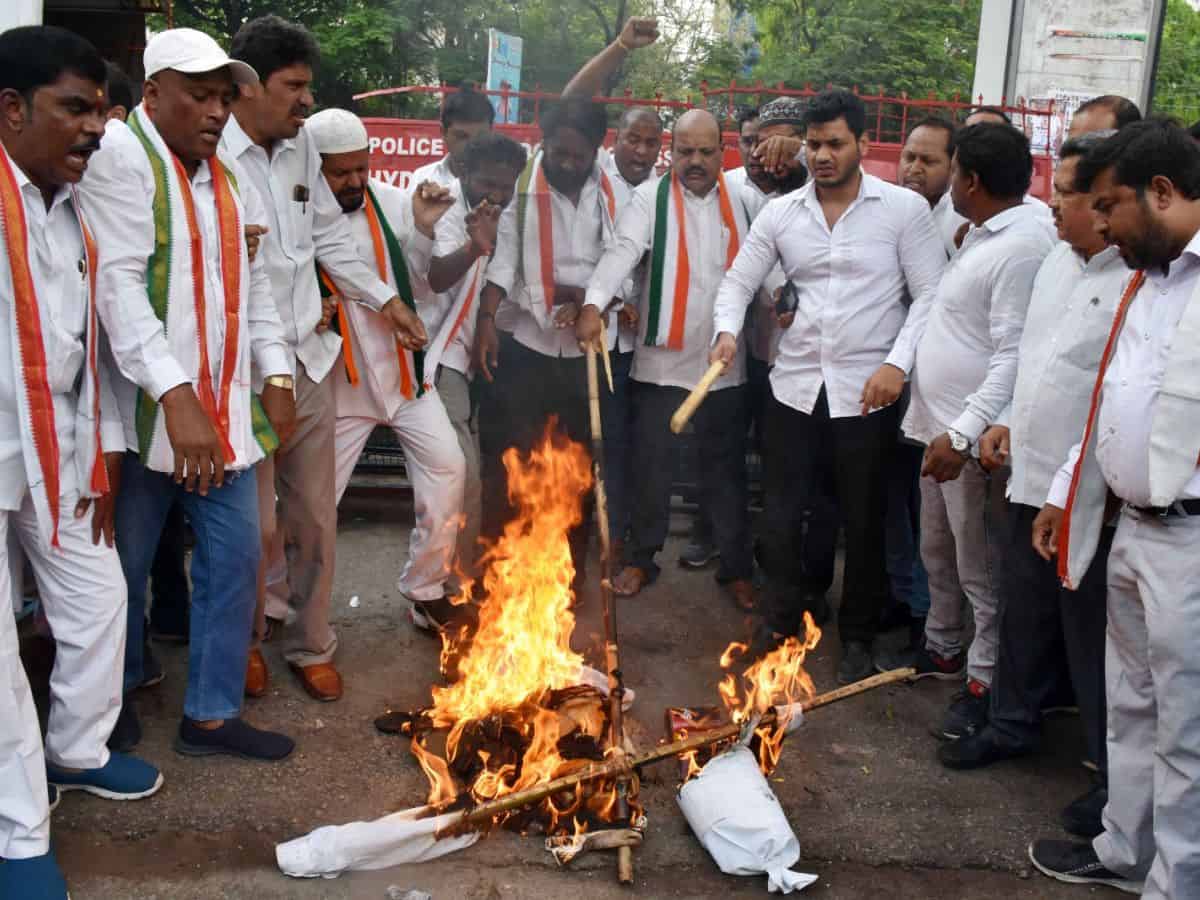 Hyderabad: Congress party protested on Sunday demanding the intervention of the President of India into the Telangana State Public Service Commission (TSPSC) paper leak and called for the resignations of chief minister K Chandrasekhar Rao and IT minister KT Rama Rao.
Speaking to the media district congress committee president Sameer Waliullah said that the President of India should intervene to sack the TSPSC chairman B Janardhan Reddy and all members and replace them with efficient people.
Congress leaders burned an effigy of KCR during the protest at the Gandhi Bhavan and demanded for a probe into the paper leak by a sitting judge of the Telangana High Court.
Sameer said that the paper leak and cancellation of three exams have shattered the dreams of thousands of candidates. It has caused immense mental agony to the candidates, and the state government should compensate them for their losses.
He condemned the suicide of a Group-1 aspirant, Naveen from Sricilla, and termed it "institutional murder." He demanded that all responsible for the paper leak be booked for Naveen's murder.
He said, "Candidates had put in months of hard work to crack the exams, expecting to secure a government job. However, the criminal negligence of TSPSC and the lethargic attitude of the KCR government led to the leakage of question papers, resulting in the hard work of lakhs of students going in vain."
Sameer said that KCR should have sacked all the concerned ministers and demanded the entire board of TSPSC to step down from their posts.
The Congress leader accused KTR of triggering a blame game with opposition parties to divert attention to protect the real culprits. "The guilty should be punished, regardless of their political affiliation," he said.
He alleged that KCR and his family have been looting Telangana and selling off its assets and resources. "By failing to prevent the leakage of question papers in many exams, he allowed the sale of government jobs through the paper leak. We demand the resignation of CM KCR and KTR," he said.
Telangana unit Congress chief A Revanth Reddy on Sunday alleged that the personal assistant of KTR has played a key role in the paper leak.
He also alleged that KTR's personal assistant Tirupati has links with Rajasekhar Reddy, a contract employee of TSPSC and the second prime accused in the case. He claimed that the paper leakage happened from KTR's office.
He said the minister gave Rajasekhar Reddy a job in TSPSC on the recommendation of Tirupati.
Subscribe us on