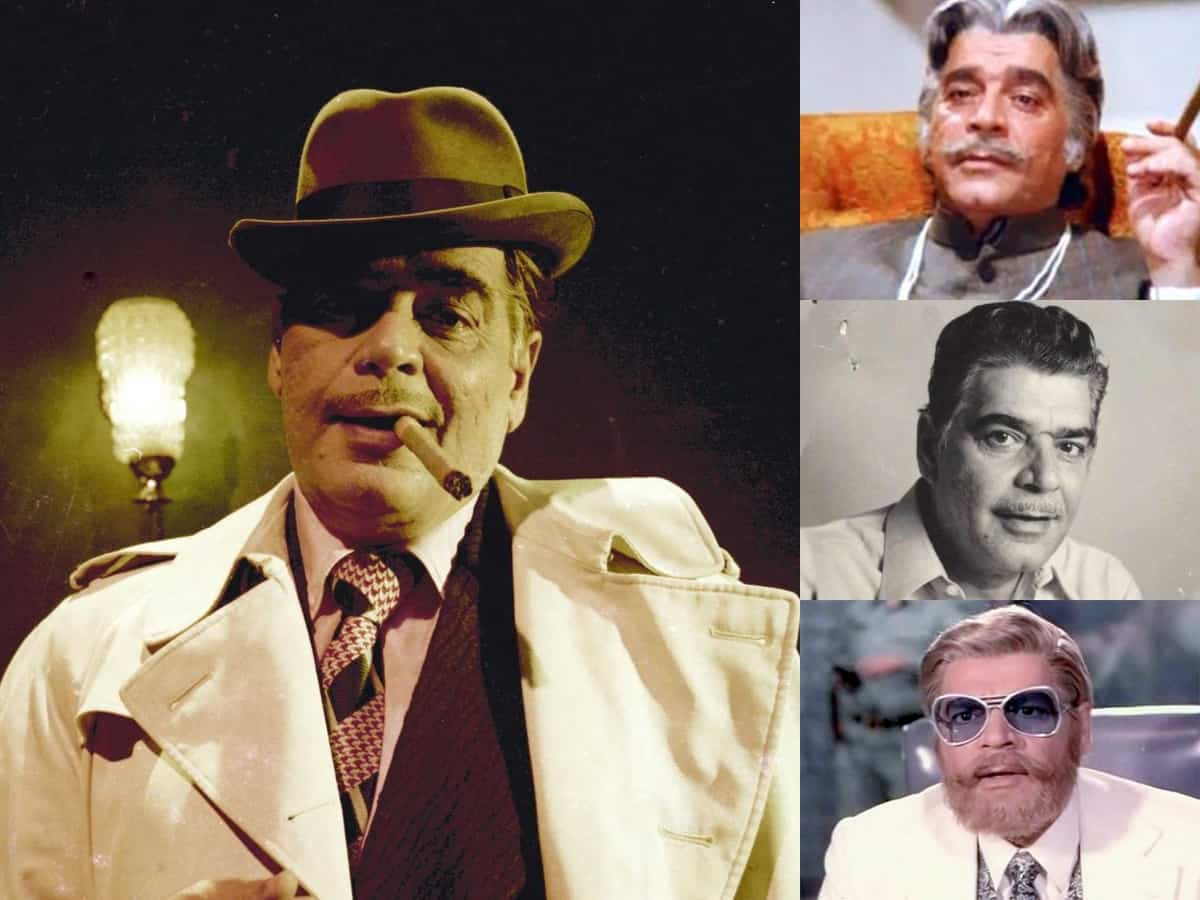 Hyderabad: Saara sheher mujhe loin ke naam se jaanta hai.
Does it ring a bell? Yes. Film buffs couldn't forget this line from Kalicharan. Spoken in a cool and collected manner some four decades ago, it still has a chilling effect.
How about this one:
Kutta jab pagal ho jaata hai toh use goli mar dete hain.
Apni umar se badkhar baatein nahi karte.
Shakaal jab baazi khelta hai .. toh jitne patte uske haath mein hote hain utne hi uki aasteen mein.
The soft-spoken villain, Ajit Khan, who delivered these memorable lines, turns 101 today. To mark his birth centenary celebrations, his family is launching his biography in Urdu and Hindi languages on Friday evening. The book, authored by Iqbal Rizi, is appropriately titled – Ajit the lion.
Born Hamid Ali Khan, he took the screen name, Ajit Khan, when he ran away from his house in Hyderabad and landed in Mumbai. Though he acted in over 200 films, he came into the limelight when he turned a baddie. The polished suited booted look he sported coupled with his unique dialogue delivery, deadpan expression and mannerism made him a superstar in his own way.
Ajit did support roles in scores of films like Shah-e-Misr, Hatimtai, Sone ki Chidiya but mostly went unnoticed. However, when he chose to do an image makeover and turned baddy cine-goersoers started taking note of him. Ajit brought a rare freshness to the portrayal of negative roles with his suave looks, tuxedo white suites, polka-dotted ties and brylecreemed hair. Gone was the savage loud-mouthed villain of Bollywood. In his new avatar Ajit, as an underworld don, is seen in most of the films reclining on a chaise lounge with a buxom babe tucked into one arm. In the movie, Zanjeer, when a blood-dripping Amitabh Bachchan confronts him after getting out of prison, the don, Teja, reacts very casually sipping his drink. Unfazed he drawls "Hayllo".
That was Ajit at his suavest best. His career skyrocketed in 70s and 80s with blockbusters like Zanjeer, Yaadon ki Barat, Kalicharan, Jugnu, Patthar aur Paayal. His typical one-liners like Mona Darling, Lilly don't be silly, and Loin are a rage even now.
More than his dialogue the 'Ajit jokes' have added to the legend. Names such as Mona, Peter, Michael and Raabert (Robert) came into common parlance. Some of the famous jokes are:
Robert: Boss, Tony to bhaag gaya hai Mona ke saath.
Ajit smirks: Raabert, my bway, Mona kaise bhaag sakti hai. Uske kapde to mere pass haiN.
Ajit: Raabert iss ko liquid oxygen mein daal do, Liquid isse jeeney nahi deygi aur oxygen isse marne nahin degi.
Interestingly, Ajit himself was unaware about these jokes. He didn't know who invented them. But they gained currency and spread like wildfire since they have a sharp wit. From a C-grade hero to a polished villain, Ajit's career turned a full circle when he sported a suave and westernised image. People liked this suited and booted baddie who never loses his cool even in most trying times.
The 221-page biography traces the early days of Ajit in Golconda, Hyderabad, his school life and his struggles in the film industry when he landed in Mumbai and little-known things about his real life. The book makes an interesting read, especially for the 'lion' fans. The book priced Rs. 230 is scheduled to be released in the Western Block of Salar Jung Museum at 4.30 pm on Friday. Siasat Managing Editor, Zaheeruddin Ali Khan, MANUU Vice-Chancellor, Syed Ainul Hasan, Nawab Ehteram Ali Khan, Board Member, Dr. A. Nagender Reddy, Director, Salar Jung Museum, and Ajit family members will grace the occasion.
Subscribe us on