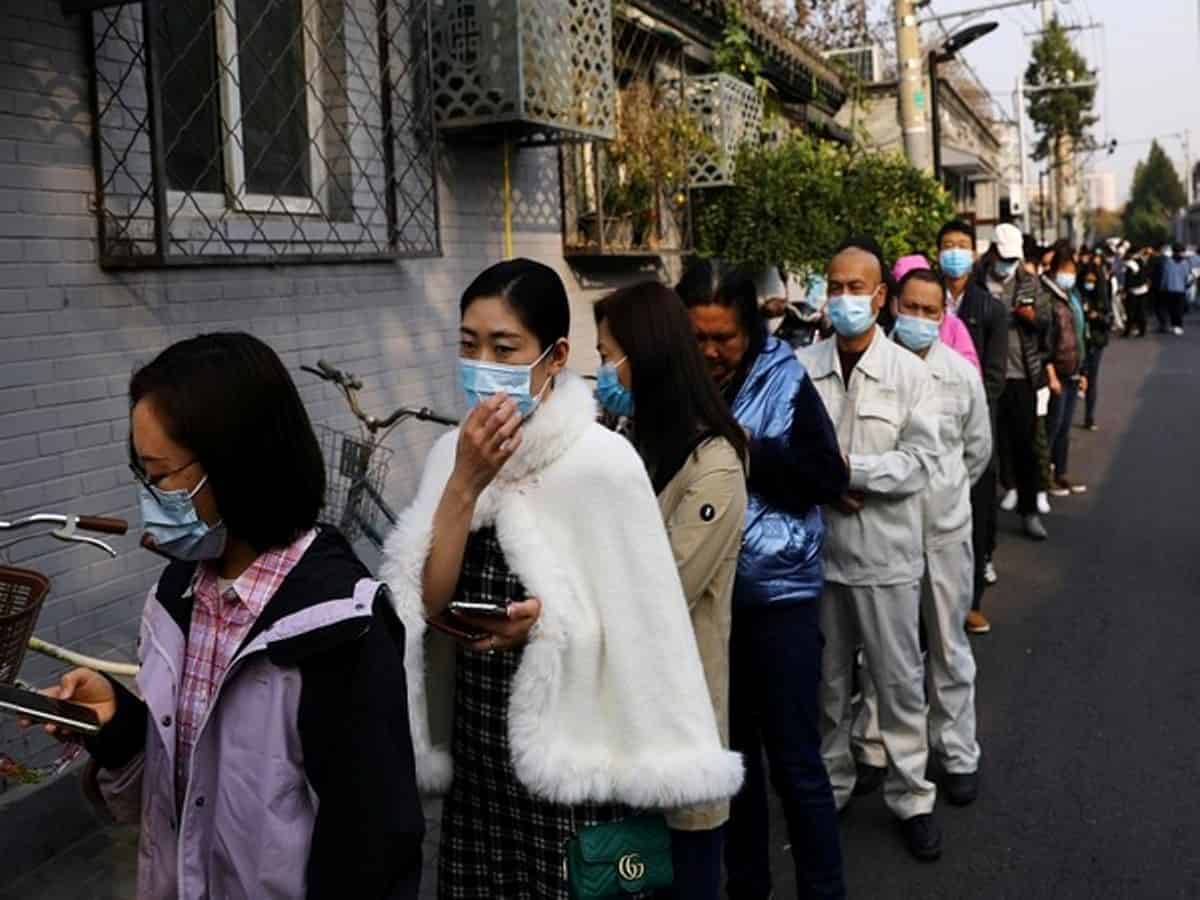 Beijing: As COVID-19 cases in China continue to rise, hospitals in many cities have started working overtime during New Year's day to fight against the epidemic, Global Times reported.
All employees of the Third Municipal Hospital of Qinhuangdao in China's Hebei province cancelled their vacations during the New Year's day holidays in 2023 to address the needs of patients undergoing medical treatment, Global Times reported citing a notice released on the WeChat account of the hospital on Thursday.
Hospitals in Chinese provinces, including Shanxi, Hebei, Hunan, Jiangsu, Shaanxi and Heilongjiang issued a similar notice, as per the news report. Employees in local hospitals have been working overtime during the holidays to ensure the treatment of patients amid the epidemic wave as part of the overall coordination of the epidemic prevention and control departments to optimize epidemic prevention policies and ensure scientific treatment, according to Global Times.
Districts in Shanghai, including Jiading, Minhang and Songjiang have improved their management measures for graded treatment to divert non-urgent COVID patients from top-tier hospitals as infections and critical cases peaked in recent days.
In order to address the peak of the epidemic that is expected to come during the New Year holidays, China's Zhejiang province has given six tasks to local medical institutions, including improving the service capacity of fever clinics, improving service accessibility convenience and improving the ability to conduct treatment of local patients, according to Global Times.
Speaking at a briefing on the latest epidemic response on Tuesday, Liang Wannian, head of the COVID-19 response expert panel under the National Health Commission (NHC), stressed that more precise and scientific prevention and control must be taken as the time of the peak of the epidemic will vary in different regions of China.
Liang Wannian stated that the treatment of severe cases, and ensuring daily medical needs should be kept at an important spot while the prevention and control and treatment capacity building in rural areas should be placed in a more prominent position, as per the news report.
Meanwhile, the Centers for Disease Control and Prevention on December 28 announced that the US will require a negative COVID-19 test from all travellers arriving in the country from China as well as those from Hong Kong and Macau.
"CDC is announcing today that it will implement a requirement for a negative COVID-19 test or documentation of recovery for air passengers boarding flights to the United States originating from the People's Republic of China (PRC) and the Special Administrative Regions of Hong Kong and Macau," the CDC said in a statement released on its website.
"CDC is announcing this step to slow the spread of COVID-19 in the United States during the surge in COVID-19 cases in the PRC given the lack of adequate and transparent epidemiological and viral genomic sequence data being reported from the PRC, it added.
Subscribe us on