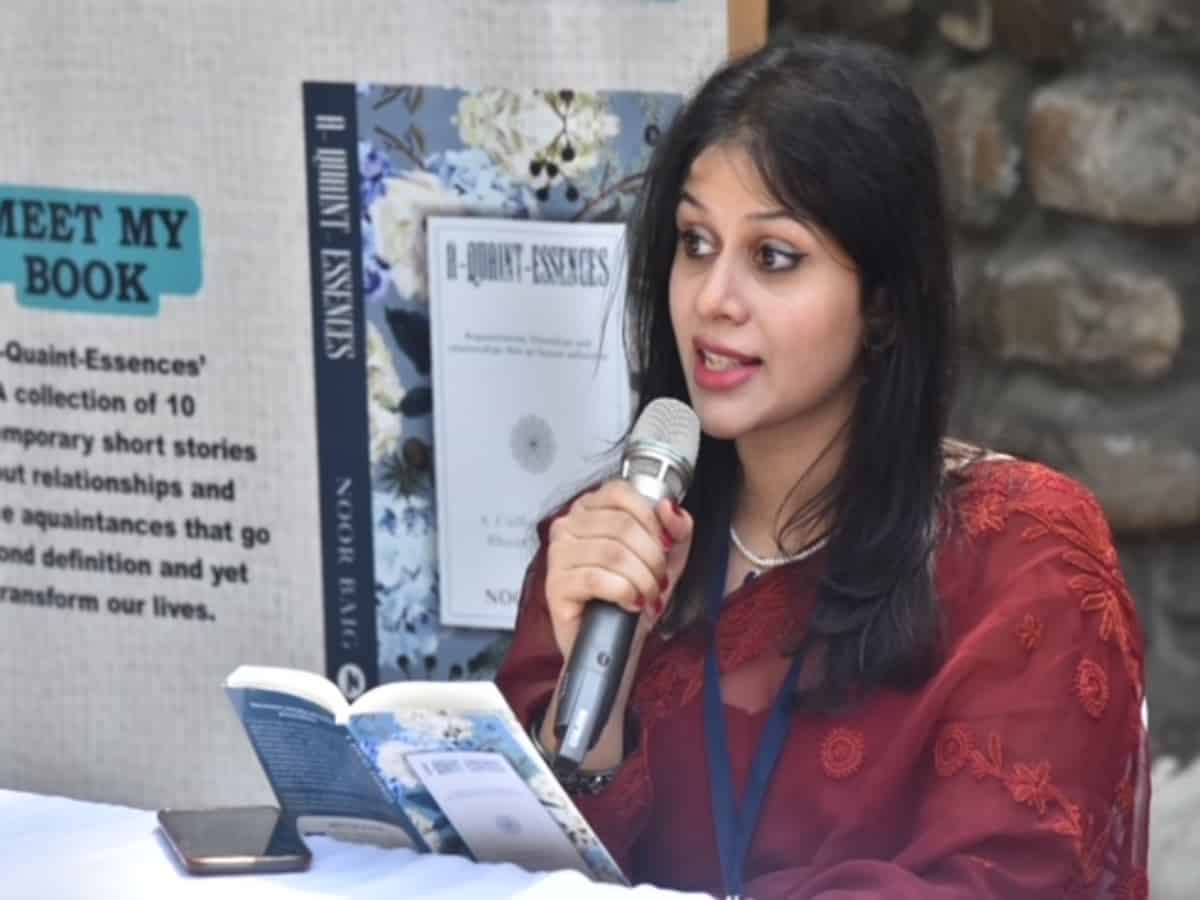 Hyderabad: 'Some friendships, relations and acquaintances go beyond definition', is precisely what the anthology 'A-Quaint-Essences' of debutant author and city's well-known playwright-theatre actor Noor Baig's book echoes.
The book was first released in August 2020. It consists of 10 contemporary short stories that talk about connections – some that take their own course of time to bloom while some in an instant – leaving the reader to decide what emotions they are sitting with by the end of the last page.
Excerpts from two of her short stories 'Ration Card' based in Chennai and 'This Old Mango Tree', which essays a conversation between an 80-year-old and a 20-year-old regarding their perspectives about a Hyderabadi haveli, were read out by Noor at the Vidyaranya School to a packed audience on Day 2 of the ongoing Hyderabad Literary Festival (HLF) 2023.
One of her short stories 'Alone' from the same book was turned into a hit play, post-pandemic.
Perhaps the author's theatre experience is well married to her writing flair, lighting up the Hyderabadi theatre and literary scene.
'A-Quaint-Essences' is Noor's second book. The first was a coffee table book presenting the colourful life of Rajasthani artist Satyapal Varma, a 90-year-old legend known for his realistic art.
"Awesome and touching, her stories are as gorgeous as she looks", felt the young Sumita Tiwari, one of the participants at the HLF 2023 taking an author-signed copy of the book, while a senior poet Suhas Bhatnagar said "Your way of writing is so descriptive that it creates images while reading your stories" at the Q & A session post the book reading.
About Noor Baig
Noor is known for her roles onstage as Bhagmati and Azeeza in global plays – 'Quli Dilon ka Shahzaada', 'Spaces', 1857: Turrebaz Khan' and others.
She has performed at major theatre festivals across the globe with hubby's theatre foundation. Her previous five plays premiered to full houses in London and were distinctly staged even at the hallowed University of Oxford and Edinburgh Festival.
Married to Padmashri Mohammad Ali Baig, an eminent theatre personality and film maker of ad and documentary films, she is also the daughter-in-law of the legendary theatre artist, the late Qadir Ali Baig.
She has been taking forward the family's legacy by co-curating the prestigious Qadir Ali Baig Theatre Festival.
Subscribe us on