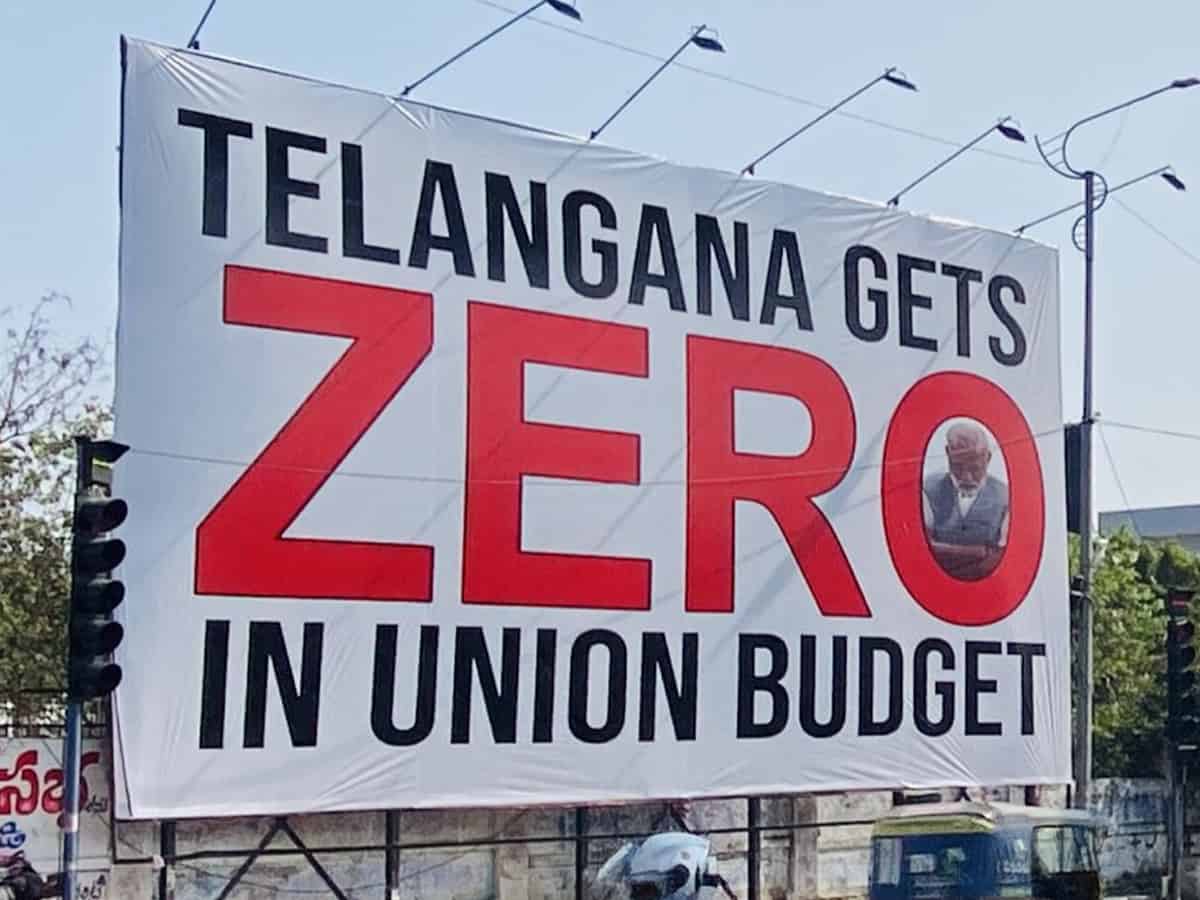 Hyderabad: Taking a shot at the Narendra Modi-led Bharatiya Janata Party (BJP) government over the 2023-24 union budget that was released on Wednesday, the ruling BRS here put up posters targeting the Centre.
Targeting Modi and the Centre, a big poster stating 'TELANGANA GETS ZERO IN UNION BUDGET' was put up in Hyderabad on Thursday. Images of the same were shared on social media sites by Bharata Rashtra Samithi (BRS) members in the city.
BRS workers last year did something similar as well, when they put up 'money heist' posters targeting Narendra Modi when he had come to Hyderabad during the BJP's national executive. The BRS has upped its social media game them by even putting up pink balloons near Modi's public meeting venue.
As part of its 'money heist' campaign, BRS workers held hoardings and protests silently, which diverted attention of many on social media away from the BJP's national executive, which was in the spotlight last year in July.
On the final day of the BJP's national executive, just hours ahead of PM Narendra Modi's rally at Parade Grounds in Secunderabad, pink balloons with the BRS slogan 'Jai Jai KCR' were positioned outside the venue, such that those were prominently visible from the venue of BJP's National Executive meeting.
IT rebate up to Rs 7 lakh of no use to Telangana: Kavitha
After the union budget was released, BRS MLC K Kavitha Kalvakuntla on Wednesday said that the income tax rebate on income up to Rs 7 lakhs (as announced by union finance minister Nirmala Sitharaman) in the new tax regime is of no use to the people of Telangana.
"This budget mathematical confirmation of the failure of Modi govt. This seems like a budget for few states. We hoped tax rebate of up to Rs 10 lakhs. In Telangana, we pay good salaries to people so this rebate is of no use to us," she said speaking to ANI.
Subscribe us on