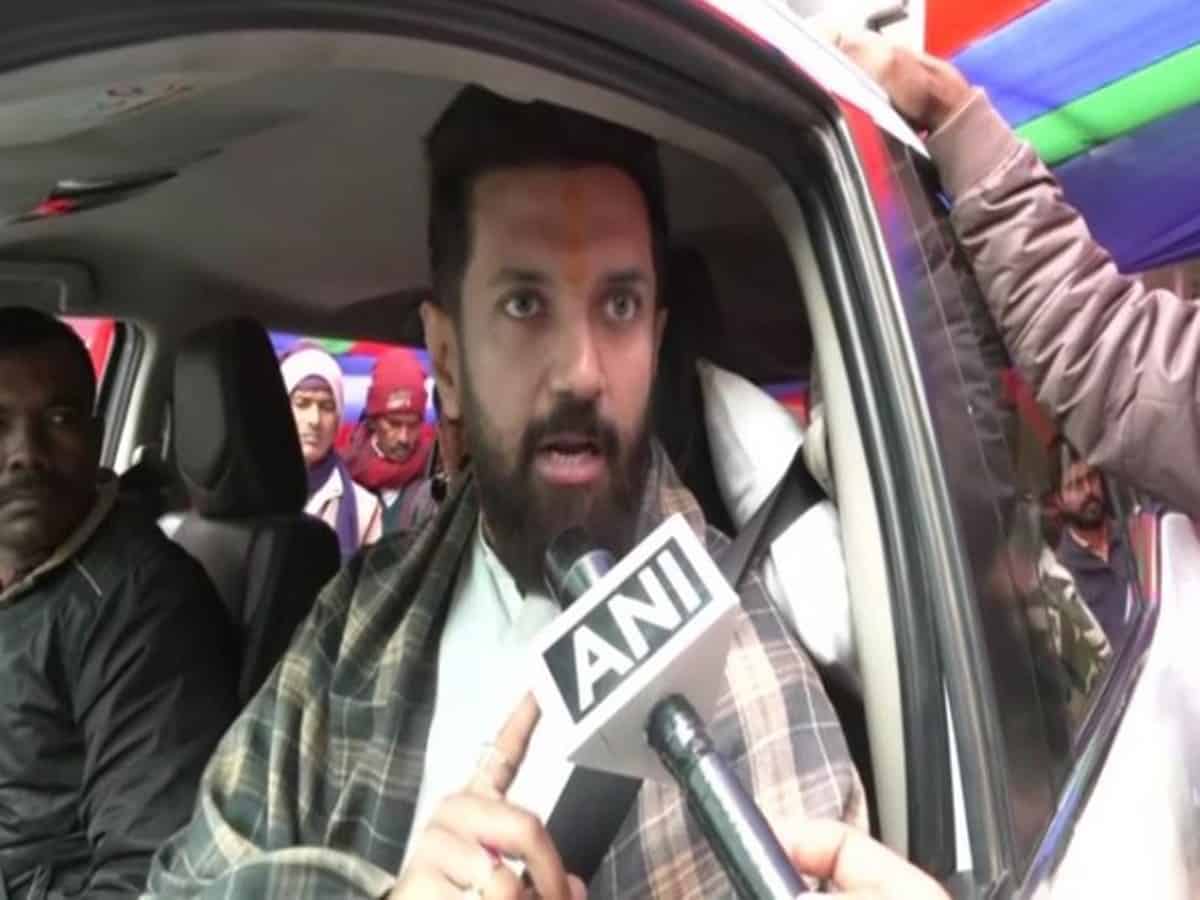 Patna: Former Lok Janshakti Party president Chirag Paswan on Saturday voiced disapproval of police action against students in Delhi over attempted screening of the BBC documentary on the communal riots that took place in Gujarat two decades ago.
Paswan, who now heads a splinter group of the party founded by his late father Ram Vilas Paswan, however, qualified his statement by adding that the Centre's decision to proscribe the documentary should also be "respected".
"I believe that the police action against Delhi University students was wrong. However, once a decision has been taken by the Centre, that should also be respected", he told reporters.
The 38-year-old leader was asked about what he thought of the controversy surrounding the documentary on the communal conflagration of 2002 which had led his late father to resign from the Union cabinet in protest.
Paswan senior, however, realigned with the BJP, which ruled Gujarat as well as the Centre when the riots took place.
The late leader also remained a member, till death, of the Union cabinet headed by Prime Minister Narendra Modi who was the Chief Minister of Gujarat in 2002.
Chirag Paswan, who represents Jamui Lok Sabha seat in Bihar, was also asked about turmoil in the ruling 'Mahagathbandhan' in the state.
"My view is that coalitions formed solely with electoral arithmetic in mind always tend to be shaky. Alliances must always be based on principles", said Paswan, who is accused by Chief Minister Nitish Kumar's JD(U) of having been part of a "BJP conspiracy" in the 2020 assembly polls.
Training his guns at Kumar, the young leader said the longest serving CM of Bihar had "no vision" for the development of the state and challenged the veteran leader for an open debate.
Paswan also claimed that people of the state were paying more for electricity than residents of other parts of the country since power was purchased by the government at "inexplicably higher rates, thanks to a powerful nexus the CM also cannot break".
Notably, the CM has been pressing for a "one nation one tariff" policy, claiming that under the current system impoverished Bihar was being compelled to cough up more than other states to get its quota of electricity.
Paswa also slammed Kumar for failure to attract investors and asked the Bihar CM to take a leaf out of the book of PM Modi who used to hold "investor summits" in Gujarat when he ruled the state.
Subscribe us on