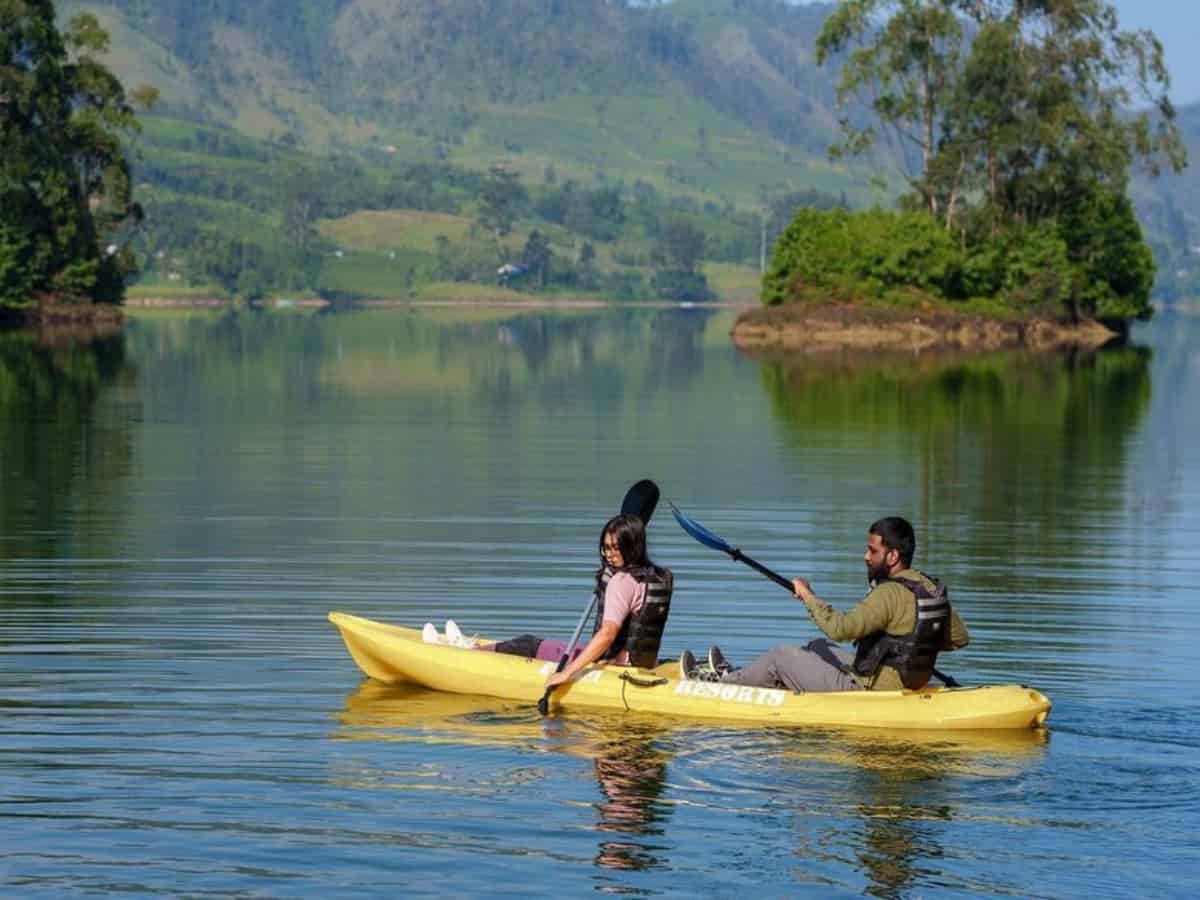 Hyderabad: Have you ever imagined how hunters would have felt during the medieval period while poaching animals or fish? No, then trust us..You can experience the same in the outskirts of Hyderabad. Once upon a time people used to go Kayaking to chase animals while crossing water bodies or fishing. Slowly and gradually, it became one of the popular fun water sports that offers a thrilling adventure for adrenaline seekers.
In this write-up we will tell you about the benefits of Kayaking and where you can go for it in Hyderabad.
Benefits of Kayaking
If you want to distress from the hectic pace of day-to-day life then make Kayaking your hobby. It helps your brain to release endorphins. Kayaking is beneficial for your heart too and is regarded as one of the top effective cardio exercises. You can also touch the water and feel nature while paddling down. It will serve as mediation and your stress level will slacken in no time. You can bask in the warmth of the sun over water after paddling hard for a while and it will prove to be the number one stress buster. It will also help to burn calories.
Where to learn it professionally?
If you don't know how to swim and are afraid of water, don't worry, you can use a life jacket which is provided by almost every host. If you want to do it more professionally, you can learn Kayaking too. Water school at Durgam Cheruvu in Hyderabad has started a special training session which will start from February 4 and you can easily book your ticket online to receive training.
It begins with onshore training after which you are on the water learning to manoeuvre a Kayak using basic forward and turning strokes with the aid of a Coach and under the watchful eye of a Safety Boat.
Where to go for it in Hyderabad?
Kotepally Reservoir or Nagasamudram lake which is located around 80-90 kms from Hyderabad is the perfect place for Kayaking in Hyderabad. It is around a three hour drive from the city but trust us you will enjoy travelling to the reservoir as you will find scenic beauty of Anantagiri Hills alongside the road during the trip.
You can experience the ride on both single and double seater kayaks here. The reservoir is open all days of the week from 10:00 am to 6:00 pm. Children below 10 years and persons above 80 kg are not allowed to enjoy Kayaking due to a few reasons.
The ticket price for the single seater kayaks for half an hour ( 30 minutes) is Rs 200 while for double seater it is Rs 300.
There are also plenty of food options for travellers and you can also go for night camping near Ananthagiri Hills which is barely 20 kms away from the reservoir.
With its calm waters and stunning scenery, Kayaking at Kotepally Reservoir is an experience that you won't soon forget. Whether you're a seasoned kayaker or a beginner looking to try something new, this destination offers an unforgettable adventure for everyone.
So, get ready, enjoy Kayaking and forget about worries……..
Subscribe us on